In the booming environment of mobile applications and online services, properly executed content marketing is one of the most efficient drivers of success. While content marketing remains an area of rampant expansion, content has to be wisely adjusted to fit various networks and devices. Contellio provides content creators adjusted formats that engage across various distribution networks including mobile thanks to partnering with PressPad.
Why Content Marketing?
Consumers have mastered the art of avoiding traditional ways of promoting a given product. Remind yourself how many times you couldn't focus on the reading, because it looked like a piece of advertising on top of Google search results.
Therefore, marketers had to find a better way of getting to their target audience. That's why content marketing is becoming more and more popular and an effective part of many marketing strategies. In general, it stands for creating and distributing valuable content to attract potential customers. It's not selling, it's providing relevant information that ultimately drives consumer behaviour towards a desired action.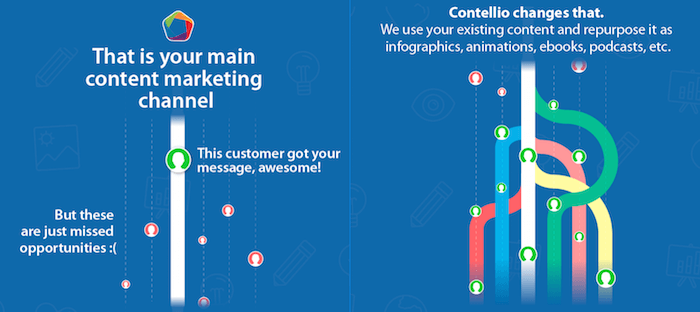 Why Is It Important
Content Marketing's success lies in its emphasis on the diversified content. Here are five reasons why you should start thinking about it:
it saves you money – create it once, repurpose the same ideas multiple times;
it gives your users value by providing them with the information they look for;
it places you as an expert in your field, therefore builds trust in your brand;
it teaches your audience about your products and makes them more aware of your brand;
it builds loyalty.
The process of content marketing and repurposing can save you time and money, extending your initial investment in promotion, making it a worthwhile strategy.
PressPad co-founder Michal Opydo said that:
"PressPad has decided to work with Contellio because they mastered content repurposing to the rank of art over craft. PressPad's offer is complementary with Contellio's services in the field of content distribution, thus we treat our partnership cooperation like a natural synergy of businesses with content publishing at their core."
What Contellio Does
Contellio adjusts content to meet their clients' users/customers needs and abilities to absorb the information in the most natural way for them. All people have their preferences when it comes to gaining knowledge. Contellio understands that perfectly, by repurposing the content into many other formats, such as presentations, animations, infographics, podcasts, ebooks, etc. With growing mobile usage in mind, we needed to adjust the content for mobile devices and PressPad has all the skills to make it happen.
Case Study

Original blogpost turned into the animation and an infographics
CreativeMarket is a marketplace for designers, where they can sell&purchase fonts, pictures, themes, graphics and many other things. They have a very active blog, with tons of followers contributing in comments. Creative Market wanted to take a step further, to diversify content they produced into some other, more visual formats. We started off with animations and presentations, and soon followed up with infographics.

Original blogpost turned into a kinetic presentation for Facebook post.
Another client, TalentLMS (with portfolio of own products), is a cloud solution that helps teachers or trainers build and publish e-courses online. The company's marketing is focused strictly on blogs and high quality, specific content that delivers great value to their users. TalentLMS wanted to create more general and appealing content that is also easier to share. We proposed repurposing their content into presentations and then added animations and podcasts. We also advised on proper ways to promoting this new content. The results show that, for this particular audience, presentations worked best.
Martyna Arent, VP of Product at Contellio said that:
"Contellio is all about your content and making sure that it reaches all your potential clients in a non-intrusive way. We work with content creators, designers, animators and lectors that deliver top quality content, which is available not only on the web but also touches the mobile world. Partnering with PressPad felt like an obvious step to achieve our goals and deliver product that meets our clients' expectations"
Content Marketing Lever
The possibilities are endless. All publishers know that the information is obtained best when it's accompanied by visual or graphical touch. The best way to introduce the content strategy into your website is to repurpose the articles that already exist into other formats, such as presentations, animations, podcasts or infographics.
For example, do you have an article that describes some useful tips? You can convert it into infographics or a sleek presentation and promote it within your social media channels. This way you'll not only encourage your readers to find out more about this topic in your magazine, but also make the content shareable and visible for new users.
This is just one case scenario, converting any piece of content may bring lots of new opportunities to your brand that just cannot be missed.