Apple's iPad has changed the digital publishing industry for good. Never before have publishers had such an easy to use and handy device that allows to distribute their online magazines in a professional way. To make this process a great pleasure PressPad designed a software platform to create iPad magazines easily, without spending time and money.
If you use PDF format for your content, you are already halfway to success in effectively building brand identity on App Stores, where you can sell or distribute your publications for free next to the most popular and largest newspaper and magazine names.
Think about your digital circulation as an extra feature for your audience and the niche you serve. For example, if your online publication is consumed mostly on smartphones or tablets, during travelling or meetings, a mobile magazine app will allow people to read even in the offline mode.
However, if your magazine audience is gathered around your website then it's quite savvy to think about our digital magazine software called PressPad Store that enables you to create an easily installable kiosk to sell access to your magazine in PDF format.
On the one hand, our magazine apps can be seen as distribution channels, and on the other – as effective content marketing tools.
Then how to publish your own digital magazine in the App Store to widen your target range by mobile users? In this article, we're going to describe exactly what you'll need to launch your own flip page digital magazine app.
You will see in a moment how easy it is.
Apple iPad and PressPad's magazine app relationship
10 years ago, Steve Jobs announced a slim and smooth iPad, at Apple Special Event in San Francisco. He said that this is something between a laptop and a smartphone but above all something better than both of them. An iPad was presented as a device to watch videos, share photographs, read ebooks.
Back then, very few small publishers thought they could compete with big names of their times. The appearance of an iPad was a big revolution that met the needs of local magazine publishers. What has happened since then surprised experts and media all around the world: the rise in the number of new online magazines for an iPad has been significant and helped mostly small publishers.
Here's where the story of PressPad begins.
PressPad was established in 2011, just a few months after Apple's inauguration, as the company creating digital magazine apps for an iPad. It was the answer for the online publishing technology explosion and publishers' demand on iPad's magazine.
Time has shown that the use of an iPad is wider and revolutionizing for distribution of different types of content by many various brands. Dealers, marketers, manufacturers have used catalogs, brochures, cookbooks and newsletters on a daily basis to present their products, share offers and just stay in contact with customers. The digital version allows them to create a more appealing offer; show products and its possibilities much better than paper can do it.
Even though we started with iPad apps dedicated specifically for publishers, today we know that our digital magazine software works great also as an effective marketing tool for other content creators. This is due to the rapidly growing mobile consumers segment and demand for easy to use digital publishing, distribution and monetization solutions.
iPad magazine strengths
When you do the math and recap all of the costs, creating a magazine mobile can end up very expensive. There all those costs that normally don't occur when you thing about a magazine or a newspaper: hiring IT guys, setting up an infrastructure, managing software developers, designing for mobile, UX and UI testing, and so on.
Digital Magazine Apps for an iPad reduce all this cost, save tons of time and money, but more importantly allows you to focus on what you do best – creating great and original content for their readers without programming skills.
iPad brings out the best in publication – high-quality photos and conveniently watched videos that upgrade the essence of the text. The fact that you use your finger to change pages only intensifies the impression of reading a real magazine presented in a new modern version.
Why are iPad magazines attractive to readers?
provide access to the content wherever people are
they are handy and easy to take with you
include beautiful visuals (e.g. videos)
allow the deeper experience of content
represent the higher level of storytelling
improve an interactive experience of exploring content
For publishers, iPad magazines are a way to time-saving and wider distribution. Increasing the number of channels through which publishers can reach new readers is probably the number one job today for publishing companies.
How to create a digital magazine for an iPad?
PressPad helps publishers deliver their content to an iPad and Android tablets users – it only takes a few steps to set up a dedicated mobile application for your magazine without specialized knowledge.
Let's go through the process of creating an iPad magazine together.
In order to prepare your own magazine app, you're going to need three elements:
A PDF file with your magazine, including the cover.
A PressPad account.
An interesting, engaging description of the magazine.
If you haven't published a print/PDF magazine yet, focus on the first point where you'll learn step by step where to get publication design from.
If you're already a magazine publisher, then you actually already have all the elements needed to make it big on App Store and Google Play – in that case focus on point two. You just have to send the PDF file to PressPad and fill in the form with the name and description of your magazine.
Let's go over it in more detail.
1. Prepare a PDF file for your iPad magazine
With PDF, you can create an exact replica of your printed edition, but it won't look good on the iPad's screen. Designing a digital magazine plays different rules and looks slightly different than its printed version.
How to design a magazine which will look good on an iPad?
We've collected some golden rules in the presentation, which will explain what you should pay attention to. You'll find out how to prepare a good looking digital magazine, which can be read with pleasure and which looks good and works on Apple mobile devices with iOS and Android controlled tablets and smartphones.
The graphic design conveys the character of the magazine and influences the way it's received by readers. Design also influences the readability of articles, especially on tablets and smartphones.
If you need a professional magazine design, we have prepared a free package with four inDesign layouts for you. You can modify and extend them or use them 'as is', even in commercial designs (including printed ones).
If you don't have access to digital publishing software that reads the Adobe inDesign file format, you can use the following free desktop publishing software:
Inkscape is professional quality vector graphics software which runs on Windows, Mac OS X and Linux. It is used by design professionals and hobbyists worldwide, for creating a wide variety of graphics such as illustrations, icons, logos, diagrams, maps and web graphics.
Underneath a modern and user-friendly interface, Scribus supports professional publishing features, such as color separations, CMYK and spot colors, ICC color management, and versatile PDF creation.
Export the design to PDF
If you already have the magazine prepared (the recommended size of a single page is 2048 x 1536 px), it's now time to export it to a PDF file. Try to keep your output PDF files below 50 MB. Of course, your magazine could be as big as even 500 MB but would you like to download a magazine of such size yourself?
In order to save as much space as possible, get rid of all unnecessary additional options which the majority of PDF file generators have turned on by default.
Reduce the size of images bigger than 250ppi to 150ppi (ppi is a measurement of pixel density – pixels per inch).
Do not flatten text.
Remember to embed font files to the PDF being created. It is especially important if you use non-standard fonts in your digital magazine design.
Do not embed thumbs / content preview images.
Keep a 4:3 page ratio.
Consider using this free PDF compression tool.
2. Create a free account in PressPad to order an application
To order an iPad magazine app you have to take a few steps.
Register your account for free. It can be created simply via a web browser and it could be done by everyone who wants to try PressPad solution, without extra requirements.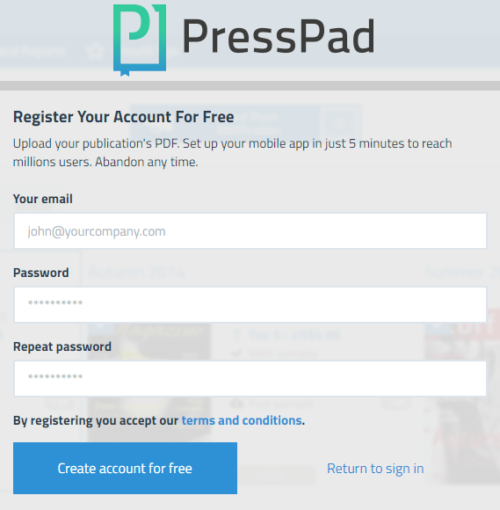 Upload at least one publication in PDF format. Each publisher needs to upload their magazine issues themselves. The panel is very simple to use, and the work requires no more than 2-3 minutes of your time per month. The "developer" that publishes your apps in Apple and Google app stores is us.
In the last stage, fill in the name of your magazine, its description, and choose the subscription price for the readers.
Then, send the order to PressPad.
The app development process takes a few days. During that time we stay in the communication loop with you to make sure that your app will meet your expectations and will be in accordance with store platform requirements. Then we publish your app to the store(s): App Store and/or Google Play and/or Amazon Appstore for you, via your own developer account.
If you need help at any of the above iPad magazine app order stages, contact us.
When Apple finishes the review your magazine's application becomes available in the App Store. From this moment readers from all over the world can download and buy single editions as well as subscriptions.
3. Increase your iPad magazine sales opportunities
How many people download your iPad magazine app depends on a few factors. There are easy ways to encourage people to do it and we'll now show you what they are.
Write an engaging description
The first two, three sentences visible on App Store pages are the most important (the rest of the description is collapsed). Include there the most important, distinctive features that make your app so appealing and useful to the readers. Magazine descriptions should be clear and point to the added value which the reader will discover if they buy the subscription.
Below you will find examples of descriptions of popular magazines published through our digital publishing software platform.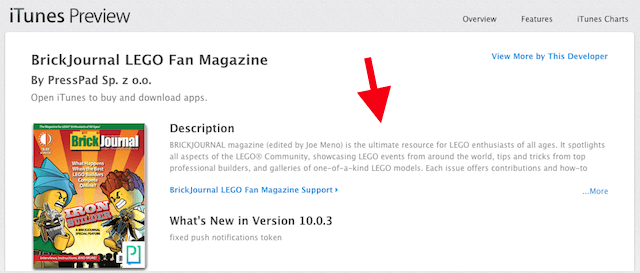 BRICKJOURNAL magazine (edited by Joe Meno) is the ultimate resource for LEGO enthusiasts of all ages. It spotlights all aspects of the LEGO® Community, showcasing LEGO events from around the world, tips and tricks from top professional builders, and galleries of one-of-a-kind LEGO models. Each issue offers contributions and how-to (…)
Your Nails Magazine – the best magazine for nail professionals. You can find everything you need to become a top nail technician. From nail art, nail trends, step by steps and technical articles. (…)
Also, a very interesting example of an engaging description is using fragments of published stories or interviews. The description below comes from a comic (yes, we also publish digital comics apps) but this method can also be applied regarding publications of different types.
Fall 1998. A young salesman is returning from a business trip. He will not get home safely, though. One event will change his dreary existence forever.


When the man wakes up in a hospital bed he discovers that his whole life up to that point was merely a façade, and he possesses powers far beyond human comprehension! The hero has to unravel the mystery of his true origin. He can use his superhuman powers for the good of people… or quite the opposite. Which path will he choose?
Explore the adventures of a new superhero! Discover with him the price you have to pay for saving the world!
Offer a magazine sample
Magazines and newspapers which are available in the App Store, function like any other app you can download to an iPad.
After you download a magazine app from the App Store, you can subscribe to it in the magazine's app. Most publishers offer a free issue or preview option, to readers can check out what they are getting before they make a purchase.
No one likes to buy a pig in a poke.
If you want to encourage readers to buy your magazine, use this good practice guide when you prepare a sample offer:
choose that issue or article which best reflects the content type and quality you offer
add a cover as an indispensable part of all issues
include a table of contents to clearly show what people can find inside
optimize PDF to fast download; otherwise, there is a big fear that the client will quit any further exploration
More and more publishers offer "freemium" models where some of the content is free, but getting full access requires a subscription. For example, National Geographic Magazine offers many free articles on its website and in its app, but if you want to have full access including previous editions, you need to subscribe.
Another strategy is to offer the whole digital edition for free if someone also subscribes to the printed version; a good example here would be The Economist.
Sell more editions on tablets
The appearance of an iPad was a milestone in digital publishing evolution – there were times when magazines were distributed on floppy disks via post and read on a computer.
What will the future bring? We're looking forward to the next Apple's presentation which will shake things up again in the publishers' lives.
In the meantime, we'll be glad to answer your questions and needs related to digital magazine distribution. If you've already had your iPad magazine, check out the Growth Hacking Feature that we created to help publishers sell more editions on tablets.