There are two trends in the field of magazine apps for iPad; the first one is building dedicated applications, and the other one is about web apps. This article focuses on the first approach and describes the process of creating a dedicated newsstand app for iPad ready to conquer the App Store by magazine publishers.
Let's take a short trip back in time.
It's 2012. Apple introduces the fourth-generation iPads and the iPhone 5 (the last smartphone overseen by Steve Jobs). At the same time PressPad launches an iOS app dedicated to publishers who wants to go mobile with their content. Over the following years, Apple develops the iOS system and introduces changes in the App Store, determining PressPad's app evolution.
Together with creating a newsstand app for iPad, PressPad also ensures permanent supervision over Apple's updates. From now on, all of the magazine apps created by PressPad are compatible with those following the iOS version. In practice, it means that publishers may forget about technical stuff and dealing directly with Apple on their own; instead they can focus on the things really important for them – the magazine content.
Accordingly, an iPad app for magazine publishers becomes the core product of PressPad.
Suddenly, a significant change comes along.
Apple splits the iOS development line into iOS and iPadOS.
To continue providing customers with the highest quality of digital publishing platforms, PressPad starts working on a completely new version of their iOS app. The goal is to create their own newsstand app for an iPad from scratch in order to ensure a solid foundation for further development in the coming years.
As a result, PressPad creates a brand-new newsstand app for the iPad.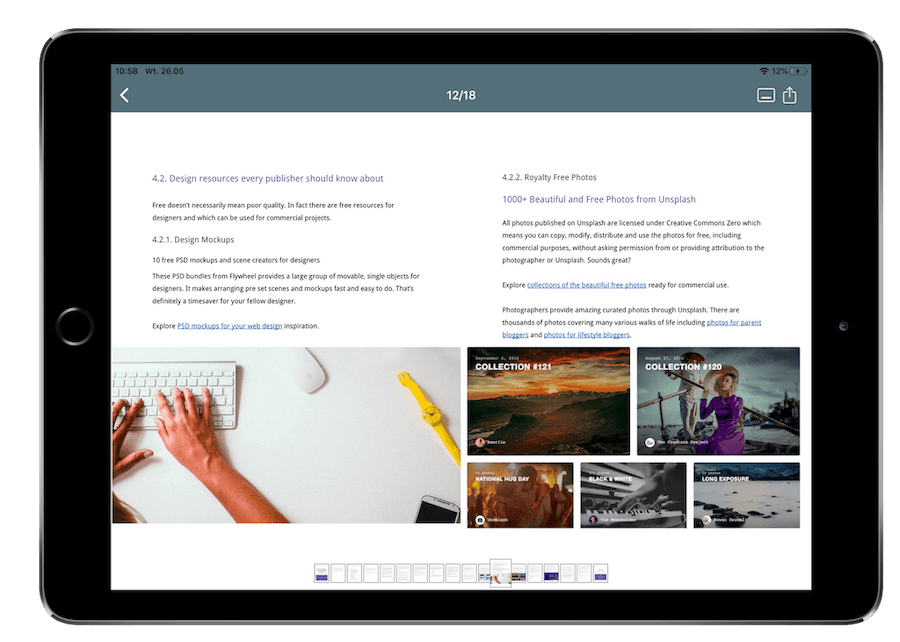 Newsstand app for iPads from PressPad
With PressPad's solution, you can start to publish your magazines as mobile apps which will be available on the App Store. This way you'll reach the audience accustomed to using iPhones and iPads to read content. The app allows you to distribute your magazine for free or in a paid option.
What makes PressPad's app special?
The app is a totally new conception that has been built from scratch by the PressPad developers' team.
It's fully compatible with the newest Apple's systems (iOS and iPadOS) and their updates.
Due to the above, PressPad's app is stable, reliable and performing well for its users.
The app is modifiable with the possibility to extend to new features and adjust design's customized details.
It ensures quick and smooth functioning while keeping an outstanding, modern and reading pleasure look.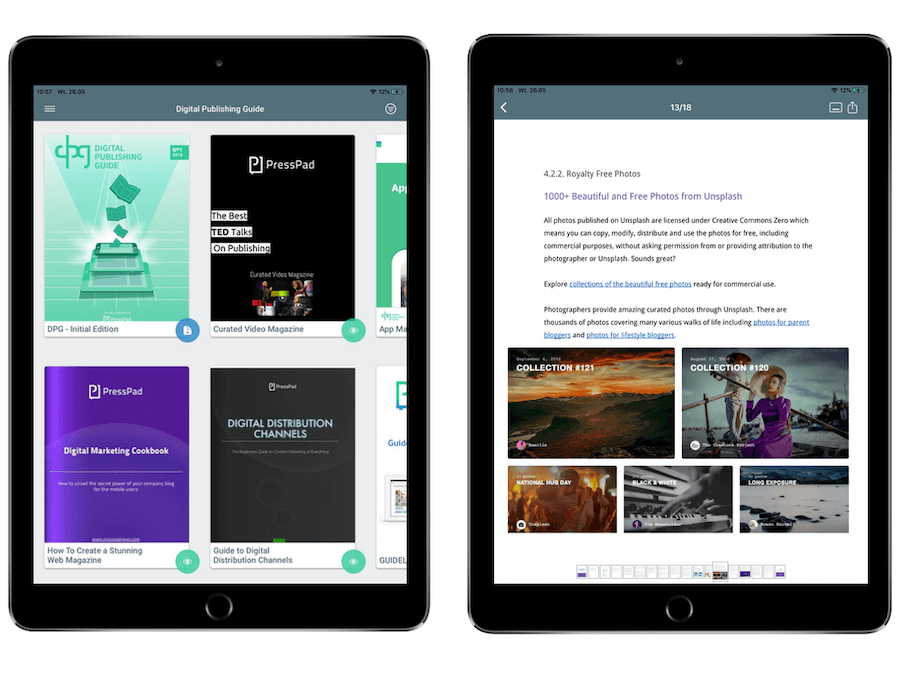 How to create a newsstand app for an iPad?
In PressPad, each of the customers receives their own application. When you decide to place an order, you get a native app that fits both iPad and iPhone. This solution is equipped with features such as:
the newsstand ability of the App Store,
push notification service,
background downloading,
single issues sales and subscription sales,
offline reading.
The path to order an iPad app is extremely simple:
Contact PressPad. Our specialists will help you to tailor products to your individual needs.
Wait a few days until PressPad does a demo version of your app. It's free. Then you can test it and see how your magazine app looks like and functions.
After paying you'll get a full app version. PressPad service is based on a monthly payment without long term commissions. The subscription including support services such as helping with all technical things and dealing with Apple.
Special offer for the new customers
In connection with the launch of the brand-new iPad app, PressPad prepared a special offer for new customers who want to test how their magazine app could work.
The full version of your magazine app will be live on App Store for a month for free.
After a month, you can still enjoy your magazine app by paying PressPad.
If you won't pay, the app will be removed from the App Store and nothing will happen. No hard feelings.
Test a full-version newsstand app for the iPad for free for a month (the app works on iPhone too).
Sign up, to reserve your spot! Our special offer lasts from today to the end of June.
All registrations will be verified successively then apps will be published on the App Store immediately.
Selling on the App Store
PressPad was created in this goal in mind – to help publishers go mobile without a hassle; so they don't need to hire programmers and be bothered about the App Review Guidelines and dealing directly with Apple. PressPad takes care of all these things themselves, so their customers may focus on things which are really important for them.
An app carefully prepared from the very beginning will ensure you have a good start with the App Store. The only thing left is to prepare a detailed description and relevant pictures to attract App Store users to install your newsstand app.
Are you ready to conquer the App Store with your magazine app?