Until recently, television has been the most effective advertising channel for almost every industry. As well as the most expensive, which resulted in the fact that many small or medium-sized companies could not afford it. Today, such firms face a huge opportunity to effectively increase recognizability and sales through online campaigns. Thanks to the Internet, a well-executed digital marketing strategy can give much better results than the few-second television spot in prime time. For a shorter time, less money, and with a higher rate of return.
One principle unites all businesses of the world – no marketing, no sales. Having a great product is the one thing. The ability to introduce it to the world is another. Building a brand, developing product recognition, and thus increasing sales are long-term processes that require appropriate marketing activities. Fortunately, the Internet has made them available to literally everyone, on the same terms without skyrocketing costs. It would be a shame not to take advantage of this, wouldn't it?
We have prepared this article to make effective use of these advertisement opportunities for mid-size publishers. By defining this group in such a way, we imply those who are not part of large publishing concerns or multinational corporations as well as those who are not beginners in this business or hobbyists spending their free time in that way. The following set of specific tips is aimed at middle-sized companies, which we understand as an enterprise offering a magazine aimed at a specific audience; a company that employs people, makes a profit, and, most importantly, wants to grow.
If you feel like you are one, click "continue reading" without hesitation and use our proven and based on years of experience pieces of advice. You will not regret it.
Digital marketing strategy – do I even need it?
In order to answer the question as precisely as possible, we must first specify what digital marketing strategy is. There are many definitions everywhere, but to us, the best seems to be the following one specified by Search Engine Journal:
A digital marketing strategy is part of a larger business plan that outlines how to reach its overarching business goals using digital channels.
We can draw three conclusions from this brief explanation. First, the digital strategy is only a part of a larger business plan. Therefore, it should not be the one and only promotional activity undertaken by the company. It can perfectly harmonize with outdoor campaigns. Secondly, it is supposed to help achieve the goals (both long term and short term) set in before, and these, as we know, are different for various companies. Third, it focuses specifically on online channels, but it is a mistake to focus on all of them.
Is the game worth the candle?
You shouldn't be surprised if we answer "yes" to this question. The digital world is our daily work sphere. Of course, we're not going to leave you with this one word for guesswork and speculation. Below, we present a list of the most important benefits that stand behind digital marketing strategy for magazine publishers.
It's more cost-effective than traditional marketing methods.
All digital efforts can be measured.
If you know who your target audience is, you can hit them with extreme precision.
It is commonly available, which allows you to compete with bigger brands.
You can reach an audience from the stage of the sales funnel you want.
The Internet is an essential part of most people's lives.
Growing visibility, increasing a wider audience, and boosting revenue are at your fingertips.
Still not enough? According to Statista, there are 5.18 billion Internet users worldwide. Of this total, 4.8 billion were social media users (which has enormous significance to the digital marketing case, but we will talk about it later). Do you know how these people discover new brands, products, and services today?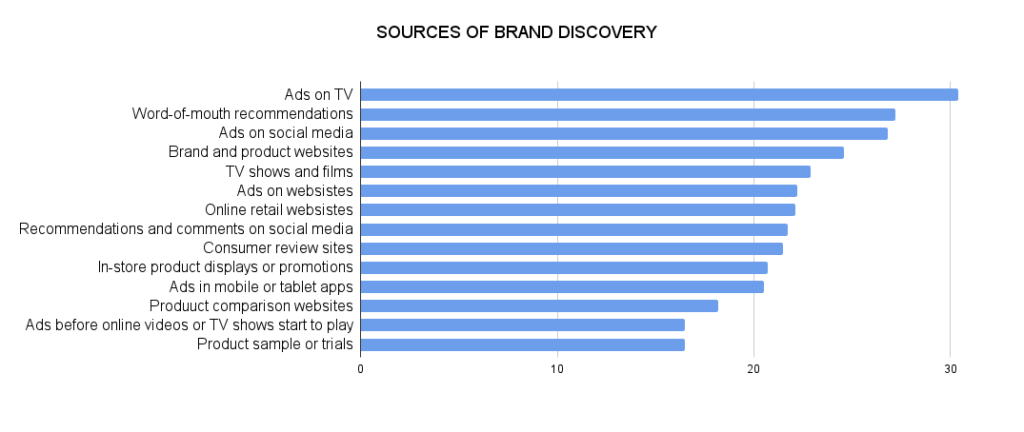 This research shows one thing clearly – if you don't compete by having a digital marketing strategy, then you're missing out on opportunities to reach new readers. If you don't engage your team in being more Internet-friendly, you will lose out to competitors who are more digitally savvy. Below you will find some great ways to make it different.
The best digital marketing strategies for magazine publishers
Let's start with the fact that just as there is no one single strategy, there is no one single type of Internet marketing. There are different types, divided into groups. In fact, into a lot of groups, depending on the criterion. For the purpose of this article, let's just focus on the fact that Internet marketing can be divided into three parts: paid, owned, and earned. Where which strategy is located is shown in the graphic below.

We will not discuss each point individually, because the article would grow to skyrocketing proportions. We want to focus on such actions being parts of these categories, that will give you, as a mid-size publisher, the best results.
Promote your magazine with a… part of it
There's no better way to encourage people to buy your magazine than to present its value for free and you can do it in many ways. How much content you offer for free is up to you. It can be a fragment of an article, one article, a few articles, or even a single issue. You also decide on the period of time. One article for free per day, per week, or per month? For digital publishers who are delivering monthly magazines, we suggest allowing visitors to see three articles per month, which can also be used in the issue archive.
Digital marketing has a huge advantage here because of paywalls which are a great way to replace the print methodology of offering free issues. What we know from our customers, the possibility of previewing the issue as well as an online library full of old issues is doing great for them.
You can do this through various channels. Sometimes it is worthwhile to send a free article by e-mail to a certain group of recipients, and sometimes…. publish its title and photo or video on social media. It is important that the content samples, whatever they are, have to be specially selected and wildly intriguing. Look at this from the reader's perspective and ask yourself – is the whole of the material worth paying for?
Be the host of your event
Under the term "publishing house" today there is much more than just creating and publishing a magazine. If you are in charge of a title, you need to think of it as a large, complex machine that specializes in your subject matter and niche. You should treat your magazine company not only as word delivery but as a source of knowledge, inspiration, and a place gathering people around. Remember, you are a specialist and people trust you.
What is it specifically about? Go beyond the scheme: I create a magazine and someone buys it. Offer more instead. Social media, podcast platforms, and partnerships with other companies give you an opportunity to organize webinars, meetings, Q&A, and discussions valuable for a group potentially interested in your topic. If you want even more, reach for even more – outdoor events and live meetings that can be broadcast over the Internet, for those who can't be there in person.
It's a moment where you can consider influencer marketing. Collaborating with local influencers and industry experts can help you reach a wider audience and increase credibility. By partnering with influencers who have a similar target audience, you can reach new readers who may not have discovered their magazine otherwise. The art here is to engage the proper person in collaboration, so solid research is the key.
Use the power you have already had
Do you know that your website has the potential to be a 24/7 sales machine? You can offer both new and old issues of your magazine. And, as we wrote above, some can be free and some can be paid for. A feature such as a search on the site will make it much easier for the reader to find specific material.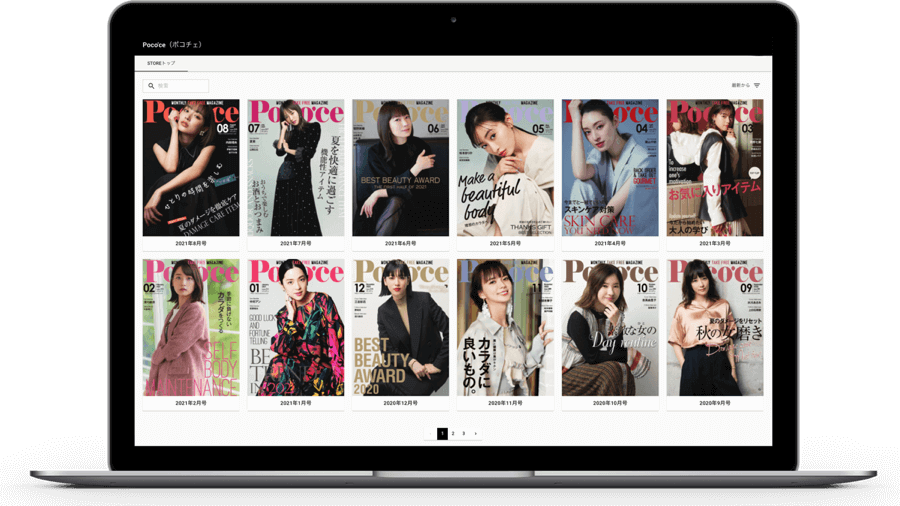 What are other advantages digital kiosks offer?
High revenue stream – by selling directly you can substantially increase your margin on each sale as well as encourage multiple sales in your own controlled environment. You don't pay the middlemen and set the rules yourself including pricing and promotional offers on your products.
Data – selling on your website allows you to track and collect all data on your customers from both a sales and browsing perspective. You will see readers' habits, needs, and trends: who is buying, what, and when. Thanks to this, you can tailor effective future communication strategies and fit your offer to the market.
Redirection – even if someone who is on your site doesn't make a purchase, they may be able to be redirected to another of your places and become a social media follower or blog reader which will ensure constant contact with the brand.
Investment in the future – no other way of selling will give you such knowledge as your own e-kiosk. It will give you deep insight into your readers' preferences as well as direct contact with them.
Remember, that your website is also a place where visitors can leave their email addresses, e.g. in return for free, valuable materials. Email is still a well-performing promotional and sales channel, but to make it effective you need to target an audience with personalized content and well-adjusted promotions. The key is to prepare several different messages or newsletters to different people, according to their interests.
Tailor-made digital marketing strategy
There is no one good universal strategy for everyone. Just as there is no one promotional channel that is suitable for everyone. That's why in making a list of ways that work, we had to choose something that works in most cases and is more general. We tried to point the way. But if that's not enough for you and you want something more specific, tailor-made, let us know.
At PressPad, we not only develop mobile apps or digital newsstands for news and magazine publishers but also help them select the strategies and development directions that will work best for them. For them means for you. All tips and tricks we have just shared are the result of years spent in the Internet business side by side with publishers.
So, if there is anything about your magazine you want to discuss, feel free to do it.