There are many ways to popularize your digital magazine so that it would be increasingly and more willingly downloaded from App Store. A lot depends on the starting factors, such as whether you already publish your title on other platforms, whether you already have printed edition readers, and whether they belong to a model group of digital edition readers.
In order to answer these questions, we took a closer look at 10 most popular magazines published by PressPad, to check whether there exist any activities that are common to the publishers who can boast a large number of digital magazine app downloads.
Information concerning the path through which the readers reach the magazine in App Store is known only to Apple and, unfortunately, Apple does not disclose these data. Similarly, we can only inquire what has the greatest impact on the position of the application in iTunes search results. Luckily, it is possible to draw conclusions indirectly from observations of the activities of the most popular magazine apps.
Position in App Store is secondary
First of all, it is worth asking if a featured app in App Store should be a goal in itself because users come across the app from many different sources of traffic such as:
Google search engine
Social Media
App Store
All these sources coexist, and in the first two cases, the publisher has big opportunities for the creation of traffic flows. Ranging from SEO type activities, through Public and Media Relations, including actions in Social Media, and ending with commercial advertising campaigns.
In the case of App Store, among the factors that have an influence on the position in search results are: the name of the application, selected keywords and app description . It also seems that the search results in App Store function in feedback connected with the popularity of the application. This means that the more popular the application is, the more often it appears in search results.
Perhaps, there also exists an extra factor that is a kind/quality of publisher, owner of the developer account who publishes the application in App Store.

12 September 2013 is a breakthrough date for PressPad because that day Apple approved the first magazine application in a new business model. Since then, Apple has started to add our applications in a bulk manner (in batches) and we noticed the increase of popularity of our publications which may be related to the fact that we publish a lot in App Store.
So I put forward a hypothesis that the App Store search algorithm may contain a variable connected with the "position" (credibility) of the publisher. Unfortunately, at present, we still have to few data to confirm or reject this hypothesis.
Apple can also mark out some applications (featured app) in their store. Does this position have a large influence on the rise in sales? Curious data on this issue can be found in the presentation of Loren Brichter, the author of the most popular Mac application for Tweeting called Tweetie.
Loren during his lecture before students of Stanford University in 2009 revealed very interesting data concerning the sales of his product in App Store. It turns out that a weekly featuring the application in App Store by Apple had a positive impact on the sale, i.e. increased constant value of sales during the week, nevertheless, in the entire time horizon it was only a small episode, overshadowed by other activities that had a much stronger influence on popularization of the application in App Store.
Let's look at the chart from Loren's presentation once again and check how the sale increased and what most contributed to this growth. So it turns out that in this case, featuring the application in App Store is not such a smashing event as it could appear. The sale increases by an order of magnitude, to decrease in time to the value on the trendline.
This what happens in next week, i.e. great agitation and response of the community to Loren's Tweet about the rejection of the app by Apple and the media coverage associated with it, elevates the sale to a totally cosmic level. Thus, it may be assumed that more people come across an app by other channels than iTunes, of great significance here is the power of the community and building the position in Google which may have much more influence on the sale than featuring the application.
Key takeaways
Users come across applications in App Store from different sources. It seems that browsing and searching App Store is not the most important channel of discovery. The main factors behind the increase of application downloads are outside Apple's ecosystem and are connected with the recognisability of a given title and the activity of the community gathered around the application or its publisher. We also wrote that in Newsstand applications of much importance is the cover of a magazine and their name.
The sale starts outside App Store
We took a closer look at 10 most popular magazines published by PressPad on the basis of the number of magazine app downloads. We studied magazine titles, their websites and social media channels in which the titles build their community.
The magazine ranked number one was downloaded over 13,000 times in during the period considered, on the 10th place there was a magazine that had slightly more than 2,000 downloads.
All magazines have their websites and are brands that are active in social media. The majority of them run blogs, and three magazines from Top 5 are distinguished by semantic names consisting of popular words put together to create a unique and naturally sounding phrase. Most titles build a fan community on Facebook. The average value of the " talking about this" indicator on Facebook amounts to 297 people and is a characteristic value. Magazine no. 4 despite a relatively poor website and little activity in social media is very frequently cited on many blogs and thematic websites so it is very easy to come across this title from Google search results.
Assessing the websites, we took into consideration whether existing website enables easy access to the store with the magazine and whether it favours the promotion through social media (using social plugins allowing sharing content as well as liking, following, etc.).
The top three received for their websites, respectively 8, 7 and 9 points out of 10 possible.
Interestingly, the titles of 3 magazines from the top five sound natural and were created by putting together a few popular words to form one unique phrase. Sounds natural and each word is quite popular (e.g. car, australia, street), and combination makes natural informative clause e.g. "australian street cars." As a consequence, they often appear in Google search results and are placed very high on the first two pages with results.
It may suggest that if the name of the magazine contains a popular word, there is a good chance that it will be well positioned.
Key Takeways
Popular magazines are characterised by the fact that the application alone can be downloaded from App Store for free, whereas you have to pay for full issues also in the subscription model. In this way, the magazine builds the audience that they convert using free samples and push notifications. These magazines can be divided into 3 distinct groups:
1. Magazines the names of which are formed from popular keywords put together to create a unique phrase that leads from Google search results to the magazine site in iTunes. Thus, the people interested in a particular subject can easily find the magazine through Google. E.g.nails, magazine or your, nails lead to the magazine called "Your Nails Magazine" (first page with search results).
2. The magazines that do not have semantic names, yet, by operating in a specific niche, are present in many social channels. The magazines that do not have a large community yet, but are active, develop themselves and overall have a sufficient total reach to have a huge and still growing number of downloads.
3. The magazines with a large and devoted community, the names of which are not semantic, and it would be difficult to come across them through an organic search, yet, they already have a devoted community and their brand functions in the consciousness of a huge number of people.
Paraphrasing the question included in the topic of this article "How to Get your Digital Magazine App Featured in your Readers Minds?"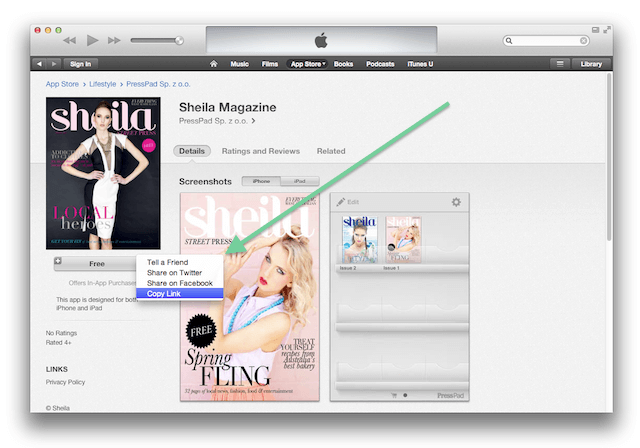 In article "From 0 – 12,000 Downloads : The Story Of the Appville Newsstand Magazine" Tope Abayomi from App Design Vault says that:
For the marketing, I followed a three-pronged approach. Having Contributors promoting the app, informing (…) subscribers and contacting a couple of friends and acquaintances [ref by me: within the community]
In order to make your Digital Magazine App even more popular, follow below rules: