Digital publishing for children is getting popular. For several weeks you have been writing to us ever more often, asking about possibilities for publishing children's books on iPad.
If you are an author of a children's book or a publisher, from this article you will learn how to publish a book on Apple mobile devices with no knowledge of programming required.
Tablets have entered our lives for good. Research conducted by "YouGov" shows, that in Great Britain more and more women become owners of tablets and it is women, who are the main users of tablets, and the number of these devices itself is growing on a global scale (e.g. in the second quarter of 2013 Apple sold nearly 20 million iPads). This is probably one of the factors contributing to the fact, that tablets reach the hands of the youngest users ever more often.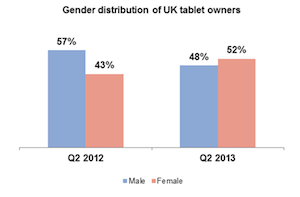 Also, a tablet increasingly becomes a toy in the hands of younger and younger kids. We believe, that this excellent tool, which in the hands of a conscious parent can introduce a child to the magical world of fables, at the same time stimulates the child's development and integrates the parent and the child in play. We see in this a huge potential of publications for children on iPad. Why? Because using an iPad is as intuitive as using a book. Moreover, a child can explore stories presented in lovely pictures by enlarging selected elements and moving them in different directions with their little fingers.
Digital publishing for children on iPad Step by Step
In order to publish a children's book on iPad divide it into chapters.
Add a beautiful cover for each chapter, that will interest a parent, as well as a child.
Each chapter is a separate PDF file, which will be offered to the book's subscribers.
Send all PDF files containing chapters (or start with the first) to your PressPad account.
Set the subscription price for all the chapters (if you wish you may also set a separate price for each chapter).
We will publish your book chapter after chapter in the App Store as a native application, which every iPad or iPhone user will be able to buy directly from his/her device.
Lovely pictures and beautiful covers make a book more attractive. Kids love stories told by colorful pictures and they can jump into them right away during manual interaction with graphics with parent assistance. And those are women who choose to stay with children, especially during the pandemic time.
According to Carole Leach, who is a writer of children's books at Diamond Books "A book is dressed by the cover". I liked this metaphor so much, that I have decided to talk to illustrators about children's book covers. My conversation partner was Jason Buhagiar who is an illustrator of children's books and various publications.
Jason Buhagiar is a Maltese digital illustrator. He has studied and graduated in graphic design, but has chosen the career of an illustrator instead.
Hi Jason, I am going to ask you a few questions about children's publishing and your work. Can you elaborate on what is the main goal of designing a cover picture for children's book?
Jason: The book cover needs unique creativity in ways to surprise the audience and also need to be attractive and excite the reader about the book. The book cover should depict the spirit of the book. This is done with images, color, and text. The images may be an illustration or photograph that shows a main component of the story. The graphics might show the main characters, an important object, or an event from the story. When looking for a book cover idea, the designer may want to look at successful book covers of books in the same genre. However, designers should avoid copying other book covers. Instead, they should consider how they can improve upon existing covers and make them unique to the book.
Are there any special techniques illustrators use while working on children's book?
Jason: The illustration and text should reflect the mood of the book. For example, the font for the text of a children's book is often rounded and playful. Classic literature often uses traditional serif fonts on the book covers. Color is an important decision when creating ideas for book covers. Even if the prospective readers are not aware of its influence, color affects our attitudes towards objects. The covers for children's books are typically of bright, cheery colors that would be attractive to children.
Does a cover should catch kids' or parents' attention?
Jason: We are told, "Don't judge a book by its cover." Well, children do it all the time. A child's first impression of a book is usually shaped by the pictures. So involve children in choosing books with wonderful, eye-catching illustrations that beg to be explored. Conduct "picture walks" through books by leafing through the pages to look at the images and discussing what you see before you read. That way, the illustrations will draw in even the most reluctant reader.