If you're thinking about changing the looks of your digital magazine or you're simply looking for a professional layout or magazine templates as an inspiration – we have some good news for you. Now you can download beautiful magazine templates for free.
The whole thing has been prepared by PressPad designers, we offer you all the templates with the covers for free, and what's more – you can use them for commercial purposes.
What's inside
After downloading the free package to your device, you will get a .zip archive. After unpacking the archive, a new folder called "PressPad_all_templates" will be created. It will contain four catalogs with magazine templates.
Attention: You don't have InDesign? Scroll down, I have something also for you!
Every catalogue contains the following:
Magazine's Cover
Magazine template including 14+ page layouts
Fonts
Sample images
*.indd files for InDesign
*.idml files for older versions of InDesign
Templates in PDF format
We have also included our 1-page ad. If you like our work, you can run this ad in your magazine linking back to PressPad digital publishing platform

. Thanks for sharing!
With the help of our magazine templates you will start your magazines in no time.
Digital magazine publishing software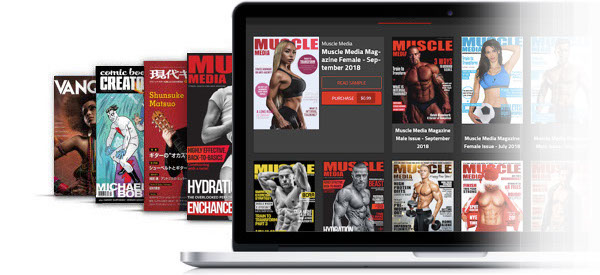 Thinking about the paid distribution of your magazine? Start your digital kiosk. Instant publishing, credit card transactions and the online reader of your PDF publication.
Learn more about a digital publishing platform for magazines »
Types of available templates
PressPad_template_1
This is a template of a bloody red color balanced with white in which the shades of red underlined with black greatly combine with sans serif headlines font. This template will fit perfectly "manly"-themed, masculine magazines.
PressPad_template_1A
Enthusiasts of food will love this template. Created in pastels, bright blues and palette of pinks, bring a feeling of freshness and lightness which perfectly fit pictures of meals. All you culinary bloggers – the field is left clear for you! You already have the content, now it's time for the next step. Try our free digital publishing course and become a better publisher.
PressPad_template_2
This underground template is unusual itself. Shades of yellow lighting up the darkness greatly resonate with serif fonts, building exceptional mood. Lifestyle magazines with this template will certainly arouse interest among the readers, as well as encourage readership among those undecided.
PressPad_template_2A
This template, thanks to its warm colors, is dedicated mostly to female magazines. The feminine touch comes with warm oranges, yellows and pinks, and guarantees positive reception of the magazine with perfect presentation of its content.
To use templates described above just open them in Adobe Indesign (if you have older version use .idml file also available in the package). If you want to download your Indesign magazine templates package simply Tweet about us using a big blue button and get your InDesign templates for free.
Free Fonts Advice
You can use any font you have. You can find free fonts in different formats online. One of the great sources is FontSquirrel which offers fonts available to use in your magazine.
What if I do not have Adobe Indesign
If you don't have Adobe Indesign you can also use our free template package. Every template is available in PDF so you can see what and how was done by our designers. Just for you we have prepared an interactive template for creating covers which you can use with the free Google Docs suite.
Just click the following links Cover Template 1, Cover Template 2 which will take you to the Google Drawing Document containing interactive cover template. This template will allow you to prepare a professional-looking cover for your magazine.
To be able to use Google Docs Cover Templates, click Menu > File > Make a copy… (Ref. image #2) and press ok (Ref. image #3) Now our template is all yours, and should be visible in your docs folder.
Color Theory Advice
Do you know that you can modify the colors of your chosen digital magazine template? For you new color to be coherent, use free Adobe Color CC (formerly known as the Kuler). Set big solid color squares for basic colors used in the template (i.e. black, red, white) and rotate the color picker towards your favorite colors to get a new, coherent color palette.
If you like our initiative – don't hesitate to tell us about it in comments or Tweet your friends about us so they can also check it out.