Two months ago we have been announcing big news — our WordPress to app platform for has started to support Android users on Google Play. Now, we have another upgrade of our WordPress–to–app platform.
This time we would like to announce that PressPad News has just started to support Kindle Fire on its native Amazon Appstore for Android.
Our behind the scenes discussion about Kindle Fire support hot or not, was very — let's say — engaging for the whole team.
Let's hit on some Amazon Appstore numbers
Amazon opened their Appstore for Android back in 2011. Right now, there are over 800.000 apps on Amazon Appstore, and it's the second largest store for mobile apps for the Android operating system. In the meantime, Amazon has released their flagship tablet series called Kindle Fire. These Android-based tablets include access to the Amazon Appstore, which becomes the default source of apps for their users. That's why it's became called Amazon Appstore for Kindle Fire.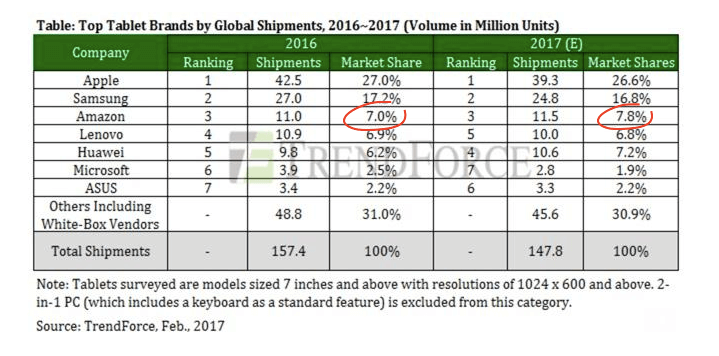 On 2016 these Amazon tablets shipment grew tremendously, suppressing the global downfall of tablet sales. Amazon has gamed that trend, to position themselves on the top of the global tablet players, overcoming the sweet 7% market share in 2017 — as per the latest prediction.
Whats more the users of Android-based mobile devices, other than Kindle Fire can use Amazon Appstore too. They just have to install Amazon Appstore app (used to be called Amazon Underground) bringing access to Amazon's big collection of free apps.
Hint. The Amazon Underground app was — in fact — Amazon's official mobile apps' distribution app. Sounds tricky but it's not. Let's say this was their mobile store platform for Kindle fire apps. Recently Amazon has introduced the all new Amazon Appstore app.
Anyway, Amazon Appstore for Kindle Fire is the great source of free apps, podcasts, and games for Android devices. Their "free content" mantra is quite tempting for Kindle Fire users who can enjoy the whole ecosystem of content created also by Amazon.
We've realized that PressPad News as a mobile marketing tool for authors is the great fit for Kindle Fire. It's because Kindle's users seem to love getting free content more than anyone else (I'll elaborate about Amazon Underground at the end of this article to have a better understanding of this conclusion).
News apps for WordPress websites are free for its readers by design because the most successful content monetization tactics often involve content sponsorship to make it free for the end user — in this case a Kindle Fire owner.
Native Android and FireOS apps
Our Android app for FireOS supports all the features of the same-kind PressPad News application for Google Play and iOS. Some of the key features are as follows:
WordPress API integration
Offline reading
Instant rich–notifications about new content
Push notifications
But there is more… and it's called…
WordPress Categories
So many of you asked us about WordPress categories support in their apps, that this feature has been pulled forward on our to-do list. Together with PressPad's WordPress to app platform update, we are rolling out this feature too. With in-app categories support the readers will be able to dynamically change the feed according to their interest.
The design is super slick and it involves intuitive drop-down menu containing all the categories that are being used in a particular WordPress blog.
By making our mobile marketing tool for WordPress available on Kindle Fire devices, we wanted bloggers, authors, and journalists increase the reach of their voices. Their blogs or digital magazines have the possibility to reach Kindle Fire users through the default source of apps on FireOS.
Entering FireOS and support for Amazon Appstore is a very important accomplishment for PressPad News as a mobile marketing tool for publishers because it opens opportunities to extend the reach and readership across various mobile platforms including App Store, Google Play and Amazon Appstore.
If you are interested in PressPad News app for your own blog or online magazine, you definitely have to talk to us. You can also try our own "App Marketing" blog (this blog) app for FireOS to see it in action.
What about App Marketing?
Lastly, we have prepared the after the Halloween gift for you. A short but solid digital marketing guide for apps. So if you have your own app or thinking about getting one for your blog you should have it. Absolute essentials about app marketing tactics that have worked for brands as Yelp, YouTube or even Amazon are just one click away from you.