Enter the new digital reality of distributed content: uncover online platforms, choose tools to improve capabilities, continuously analyze the situation, and the fight against the giants. Sound like the outline of an adventure video game? You couldn't be more wrong! These are the challenges waiting for publishers today on their digital journey. But what exactly are these challenges and how should publishers respond to them?
Only a few years ago, the critical question publishers asked themselves was: to be or not to be digital? Today, online content publishing is a global trend which doesn't mean resigning from print at all but provides new distribution and monetization possibilities for all kind of publishers including book publishers and the authors alone.
You will learn why and how digital publishers and authors should diversify their distribution and monetization channels. I will also clarify why the newsletter and branded mobile apps contribute to building a loyal audience and engage readers.
Table of content:
Diversify digital distribution channels
Diversifying revenue streams
The Reader-Revenue Revolution
The Loyal Audience Builders
From Loyal Audience to Buyers
— So, how publishers should distribute their content online to stimulate revenue growth?
Divide your content into two groups: the paid one which brings the most value, and the free one which draws attention and attracts readers.
Extract microcontent (news, infographics, video, etc.) from your free content and distribute it via appropriate channels (e.g. Twitter or Instagram) using automated tools such as buffer.com.
Direct people to the publisher's or author's blog to get leads there – use the conversion funnel strategy in practice to convert interested readers into regular readers and customers/subscribers.
Diversify content distribution channels
Some content is suitable for attracting new readers and another for converting loyal readers into customers.
Segment your loyal readers (e.g. subscribers to your newsletter) by topic or location and use this knowledge to win their hearts.
Just take a look at blogs run by best-selling authors of book and guides.
To give you a closer look, let's take Seth Godin's example. He sells hundreds and thousands of his books! His readers mainly come from the community gathered around his personal brand – they were subscribers to his newsletter, podcasts listeners, blog readers, fans of his public appearances, etc.

Before Godin became successful in book publishing, he had put a lot of effort into building a group of fans enjoying his content – they're the ones who became his readers.
I am not saying that everyone should be like Seth Godin, but his attitude may provide inspiration for publishers and authors. They should be aware of the importance of diversifying information channels (publishing channels) to achieve financial success.
Why do I want to emphasize this?
I've started noticing a common denominator among the publishers who contact us. Their stories are quite similar:
– "I've made sacrifices for my book, it is available on Amazon but there is no sale, help!"
Well, show me your tribe, and I'll show you the future.
Diversifying revenue streams
According to research conducted by Ezoic, a machine learning platform that enhances publisher websites, publishers identified several key concerns for 2019. Those include how they harness different traffic sources for their websites, evolving regulatory standards, and diversifying revenue streams.
The current need to diversify revenue streams stems from two issues. First, publishers who began publishing online made advertisement the leading source of their revenue. But after a big online boom, the effectiveness of digital ads started to decrease, mainly due to Facebook and Google domination. These two companies influenced the advertising and traffic market in the digital space, consuming most of the revenue. That frustrated publishers and forced them to change their monetization strategies.
Consequently, diversifying revenue streams and moving away from reliance on advertising is necessary to keep a publisher's business running and become independent. Having access to more than one source of income protects the enterprise and ensures financial stability.
To become profitable and scale their revenue authors and self-publishers are optimizing existing business models, and use alternative solutions for digital content distribution.

Publishers have to ask themselves what type of content distribution strategy they want to use based on the goals they want to achieve. There are three types of growth strategies to consider: paid media, owned media, and earned media.
Paid media means releasing control over user data and advertising in exchange for meaningful readership growth.
Owned media, on the other hand, requires publishers to maintain their own publishing infrastructure with smaller audiences but complete control over revenue, brand, and data.
Earned media, because of its high credibility, wields significant influence on the buyer's decision process. The tricky thing is limited control over unpaid communication around the brand.
The golden mean could be using paid media as a way to redirect readers to publishers' owned media, which is full of high-quality content. In the age of fake news, people are hungry for trustworthy and reliable information, even if they have to pay for it. This change in readers' attitudes signals a bright future for the digital publishing industry, on that will be dominated by paywalls and paid subscriptions.
The Reader-Revenue Revolution
Moving to reader revenue is a way to diversify revenue sources and reduce reliance on the digital ad market. To succeed with reader revenue, digital publishers need to understand readers' behavior and aspects of the online selling process e.g.: data, insights, marketing, loyalty, conversion and retention. The consumer's journey starts from passive awareness of a brand, which is being built on social media channels or different websites and platforms. The goal is to attract readers and show brand's credibility.
To build traffic, drive users directly to the website. Sharing content on Quora, Reddit, Facebook; and LinkedIn groups are also growing content distribution opportunities for publishers.
Of course, that doesn't necessarily mean the total abandonment of publishing on it (see my earlier input about digital distribution channels).
The point is that Facebook uses such stringent algorithms that it can be hard to ensure the publishers that the followers will see their organic content. It is quite an important matter, as the publishers' posts help them capture new consumers without generating profits for Facebook. If the publisher writes a great story on his/her fan page without paying Facebook for promoting it, Facebook can make such content totally invisible. The only thing the publishers control is content creation.
Diversity of social media networks gives the ability to reach fresh audiences, improve brand credibility, and drive traffic to the website. The previously mentioned alternatives to Facebook are seen as some of the top contributors to the overall website traffic in 2019.
The above distribution channels are customer touchpoints and sharing content on these platforms increases visibility and builds brand awareness. But there's something more at stake. Even if many people see the content, it doesn't guarantee more revenue for publishers.
The Loyal Audience Builders
Today, publishers need to invest in the reader revenue model. This is a long-term investment that will pay for itself – in data.
This kind of strategy focuses on data analysis, understood as deep insights that lead to better knowledge about the visitors' needs. This requires to focus on readers' needs instead of advertisers. Only after understanding their readers can publishers choose the proper distribution channel, build strong relationships, earn subscribers, and drive revenue.
Let's be honest. This is not a quick solution, and publishers will need time to build and monetize reader relationships. However, getting loyal, engaged audience is worth the effort.
The newsletter: underestimated content distribution channel
Connecting the audience and building trust via email is in the renaissance. Newsletters distribution is one of the ways to demonstrate that the content is worth paying for, and it may encourage more readers to subscribe to the magazine or buy a book months before its release (early birds offer).
The main rule is that newsletters are not created for direct selling, instead, they are crafted to build a loyal audience which will lead to future sales on the next stage of the conversion funnel.
There are some specific tactics for newsletters that can help increase the efficiency of e-mail marketing.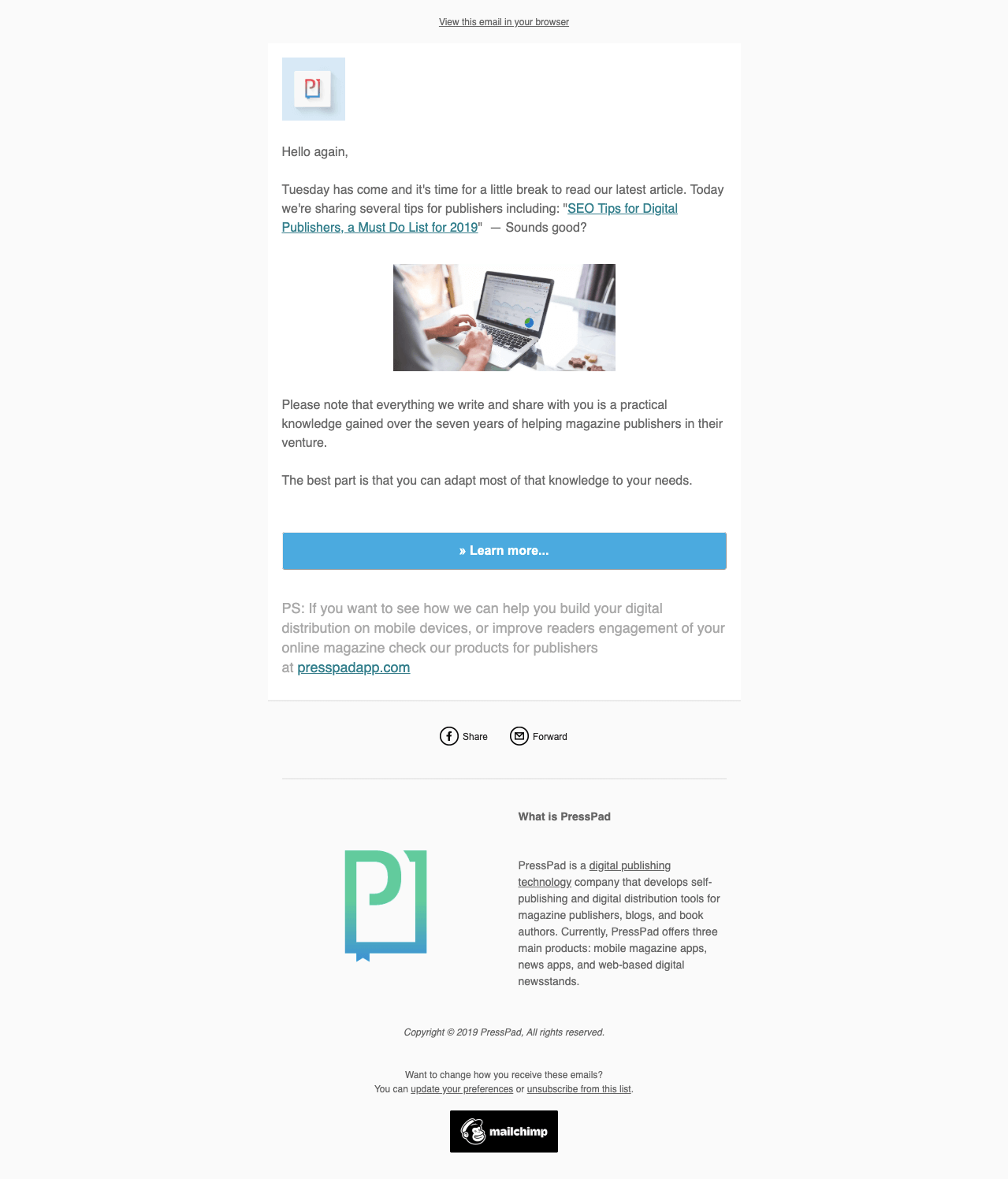 Analyzing the data on the email newsletter campaigns, which is a pretty simple thing, provides a handy insight that clearly shows what readers are interested in, as well as what can turn them off. Metrics like; open rate; click through rate; unsubscribe rate, etc. and A/B testing of the whole sections can help understand which subject or newsletter sections are the most effective to drive traffic to the website or trigger requested actions.
The more relevant the content is, the more likely the readers will go straight to the website and potentially purchase something. One of the ways to start the newsletter personalization is segmenting email lists into groups based on factors like purchase history and age demographics. Each group receives an individual newsletter. Thanks to this strategy the customers get products, news, and opinion pieces consistent with their preference.
Newsletters should look perfect on multiple devices, especially on smartphones which people use to check emails with increasing frequency. An excellent way to facilitate reading on small screens is to keep the subject line short and to use a single column layout to reduce sideways scrolling.
Organizing each newsletter around a different theme gives the readers a simple layout with high-quality content in a concise form. All this allows the readers to absorb the digital content by having a quick look at their smartphones.
Mobile app as a content distribution channel
Another highly effective content distribution method engaging the readers is a mobile app. Advanced data analysis helps manage the publishing content better, and in-app ads help monetize without sharing profit with other companies. Thanks to mobile apps the publishers retain total independence in deciding about their monetization strategy, and how to answer to digital publishing trends and fulfill the readers' needs of being informed immediately. The branded mobile app can engage readers and pull them through the conversion funnel.
With the features like Push-Notifications, the publisher can directly inform each and one reader about the latest article or the other important event.
Such a stream of notifications allows the most interested people to keep up with the brand and what it has to say.
Analytic tools like Google Analytics or the native PressPad News analytics module provide tremendous knowledge not only about the readers but also about the content. To find a direction to increase engagement is to look at article views and most popular topics over time. Tracking total installations, most popular vs. most-saved articles are a huge step to better decision making. Understanding when users open the app and which categories are most viewed helps to publish the best-matched content at the right time.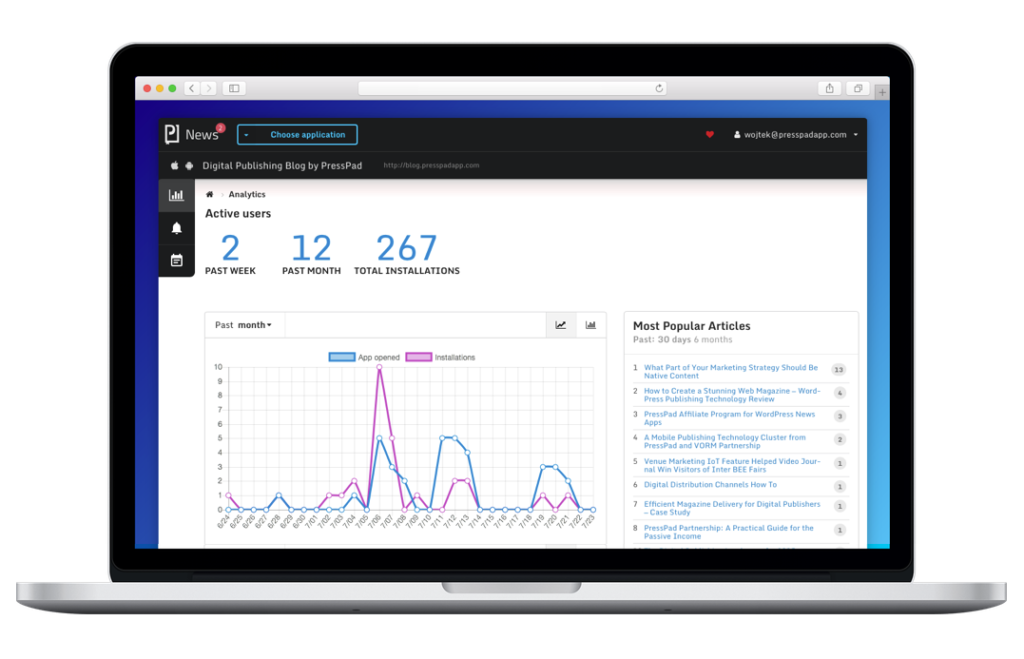 Answers to these questions can be beneficial:
Have people been spending more/less time in the app since the last update?
How many users visited the app in the past month/week and what was published then?
What kind of content do the readers react on?
Attracting the group of loyal readers to the content thanks to the newsletter and mobile publishing features should be a step towards considering the implementation of paywall monetization strategy. Its success base on the loyal group of readers' need to get the fastest news updates – news, they are ready to pay for because they know this brand's value.
Additionally, thanks to the analyzed data publishers can plan their ad campaign more easily. For example, the mobile advertising platform AdMob focuses on matching ads to the app based on criteria set by the publisher. Consequently, the users get accurate, attractive and highest performing ads which match to their interest.
From Loyal Audience to Buyers
Newsletters and mobile apps play different roles in the sales funnel, but both of them allow the publishers to achieve their goals: engaging readers in content, understanding what attracts readers most and as a result, contributing to building a loyal audience which is a long-term investment worth all the efforts.
However, the road to converting visitors into subscribers and then into buyers is still one of the publishers' greatest challenges today. The secret is to create a sales conversion funnel suitable for digital content selling.
Now, I'd love to hear your story. Have you tried to diversify your publishing channels, or are you planning to do so? Please share your insights in the comments below.