When it comes to digital publishing we often see that publishers offer mere PDF issues of their digital magazine on their mobile websites. Unfortunately, selling a PDF file on the website is not enough to take the best advantage of the mobile space, even if the website is optimized for mobile devices. In this article, I am going to show you how to fix this effortlessly.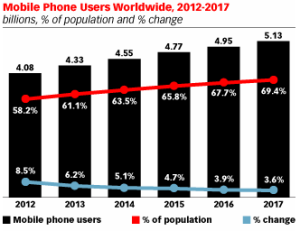 Global data shows that mobile devices took over the digital space and they have become the primary source of Internet traffic. Forecasts show that the number of mobile users will double in 2017 comparing to 2012.
The major content distributors, like Facebook or Yahoo, are already in the process of switching to a completely new way of thinking, the mobile-oriented thinking. For example, Facebook unveiled their Paper app and Yahoo is experimenting with sets of their vertical, responsive websites called "digital magazines". All this effort is aimed at supplying the mobile users with the ability to consume content in a tasty, unique serving and style. The magazine way.
This is a crucial moment for digital publishers to understand mobile users' behavior, in order to effectively build their revenue based on mobile devices.
Hint: The main difference between a mobile app and a mobile website is their ability to sell content. Mobile apps generate revenue, while mobile websites drive traffic to mobile apps.
Thus, publishers who want to monetize selling subscriptions should have both, a website and a native mobile magazine app.
Mobile users
Mobile users can be divided into tablet computer users and smartphone users. According to Pew Research 58% of adult Americans have a smartphone and 42% of them have tablet computers. The behavior of these two types of user groups can be totally different. While tablets are more likely to be used at home or at the office, which are rather slow-paced environments, smartphones are being used while commuting, shopping, or while being stuck in traffic etc. They are always with us, so the dynamics of their usage is very much different.
However, what both groups have in common is that mobile users pay attention to details that build their experience on a website. If something is hardly available on a web page, it might as well not exist, visitors flee and forget. But once their attention is caught, it can be easily converted into revenue, because mobile users are used to pay for digital goods such as apps. App Store is the leader when it comes to mobile payments, and mobile users prefer to spend their money buying tangible goods like apps, or access via in-app transactions (pay-wall). The freemium model, that took the mobile gaming industry by storm, is one of the most spectacular examples of how effective this approach can be.
Hint: Websites win users'a attention and build interest, which is necessary to drive users to an app. PDF magazines hardly sell via websites.
Top of the funnel
Websites sit at the top of the sales funnel. Digital publishers with the best sales results definitely pay attention to building beautiful and descriptive websites and landing pages for their digital magazine apps. In general, the behavioral sales funnel can look like this:
Winning user's attention
Driving interest
Inducting action
Sales
The question is, are these four simple steps achievable on a single website? Probably not, and here is where magazine apps come in, to play the crucial role in monetization model for mobile users.
Hint: Due to behavioral aspects, monetization through magazine apps is more effective than hiding content behind pay-wall on websites.
Value of the app
People see real value in having apps. Based on Google's report Americans have, on average, 33 apps installed, and 12 of them are actively used. A mobile app itself is a separate entity that encapsulates such values as:
company's brand
genuine content
functionality
design (user experience)
Thanks to this unique perception, publishers are able to market and sell their content through apps, while websites play an important role during the earlier stage. The stage of winning users' attention and driving them deeper into the funnel to the app. A magazine app gives a publisher competitive advantage over the titles that are being offered purely as mere PDF files. These are:
in-app sales (single issues, yearly renewable subscriptions)
Frictionless communication (ability to send Push Notifications to the app users)
Monetization of previous issues (it's cost effective, and increases the value of the subscription offer)
Full control over the cover design (covers can be tested and replaced just in time)
Hint: According to Forbes, "(…)in-app purchasing drives 76 percent of all app marketplace revenues, it is particularly easy for users to make a purchase with pre-entered credit card information".
Your mobile magazine app
If you have your magazine's PDF file ready, you are on the verge of entering the mobile world with your publication. Native apps supporting Apple (iOS) and Google (Android) mobile platforms managed from one, solid, and easy to use dashboard are just a few clicks away.
Use our mobile magazine app platform.
Upload your PDF issue via the PressPad account.
Input the magazine title and description.
Then set the prices including subscription price.
Now you're ready to order a demo of your own magazine apps.
After checking the demo magazine app with your content you can decide whether you want to have the mobile app published on app stores.
From that point, PressPad team starts baking your apps and we stay in touch with you – the publisher.
Ready.
Key takeaways:
Mobile users stay engaged with apps a lot.
Around 23% of new app installs come from surfing through the web.
Publishers can monetize via in-app sales of subscriptions and single issues.
Having a website is necessary to build traffic to the app.