PressPad, a digital publishing technology company supports magazine publishers since 2011. Now, they are on their way to innovate business models in the news publishing industry with a better paywall implementation.
"How to monetize online content?" — This evergreen question may finally get the correct answer.
The publishing industry is one of the most dynamically increasing and changing fields today. Along with technological development came modern readership models, digital publication trends and needs of brand new, innovative business strategies. At some point the wide-spread usage of mobile devices and new readers' expectations forced changes on publishers. As a result, more and more magazines and newspapers are distributing and selling online.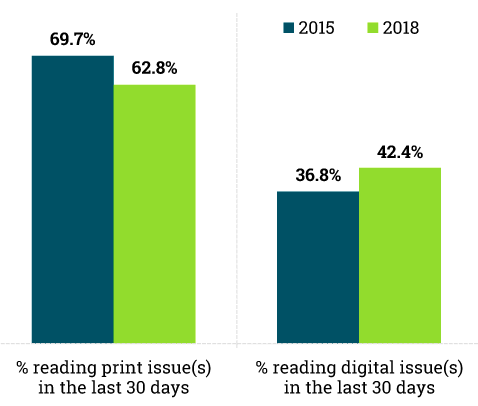 Technological impact on the publishing industry and, as an result, changing reading habits have made publishers look for new business models necessary to keep up with the digital revolution and… competitors. At stake are more demanding and tech-savvy readers.
New questions have arisen from publishers nowadays. Should I publish only print or also digital version? Maybe both? Do I need a mobile app if I have a responsive website design? How can I promote my digital issues? And finally, how can I monetize my online content?
So far, monetization methods have been mainly directed to solutions related to print newspapers and outdoor advertising. But these strategies have failed today in the face of the digital world.
One of the most popular ways to increase revenue used by digital publishers are online ads, but even this method of getting revenue will get more difficult year after year because of the increasing usage of ad blockers.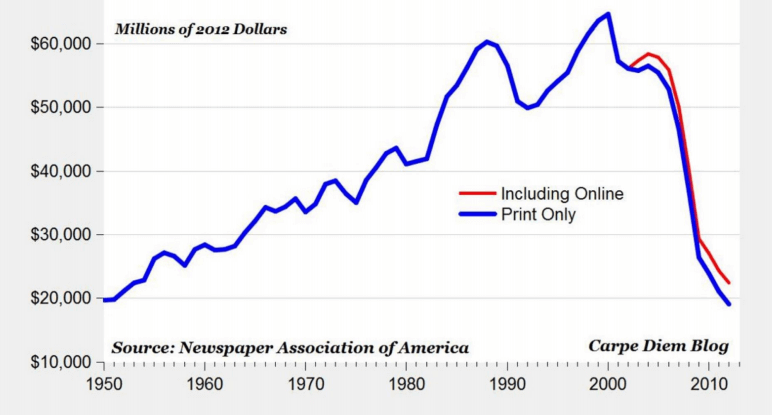 It turns out that the online newspapers' publishers are facing a considerable challenge of finding effective digital revenue sources.
The digital revolution has changed not only readers' habits but also has turned thinking about the traditional publishing industry upside down. People are used to getting free news on the Internet and this particular reading habit has started a global publishing discussion about copyright and free content. This is all the more difficult situation as publishers want to exist digitally, whilst getting profits from their business and trying to avoid losing readers.
All these publishers' requirements have conveniently connected with readers' expectations of being continuously informed by the latest news, which has given rise to a new monetizing content method — a paywall. It is a strategy of increasing revenue by restricting access to content via paid subscription.
The fact is that mobile devices have become an integral part of our lives. The original purpose of mobile phones (e.g. making calls) is in the background now, replaced by constantly checking out and sharing the news.
People expect immediately delivered information. If we add to this a huge number of different channels of transmissions, we receive an incredible amount of untrue messages and stories called fake news which are spreading on the Internet and discrediting reliable journalism.
The present trend indicates that people appreciate the high quality of journalism and they are ready to pay for value and uniqueness. Readers can get all these things from digital publishers even though they use the paywall. Online subscriptions make it easier to deliver quality journalism to readers.
What motivates a new subscriber?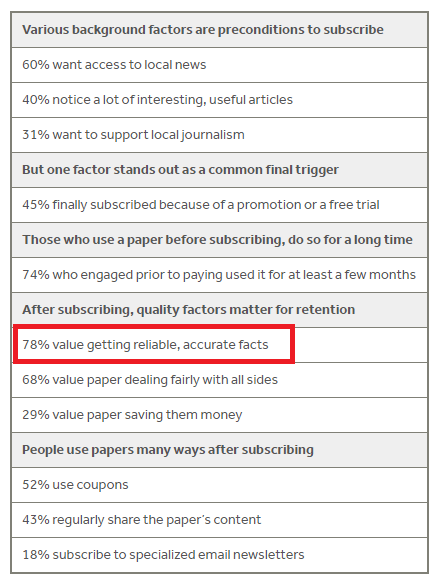 There is no the end to digital publishers' challenges on the way to successful monetization. The most important question is which paywall model should be chosen to increase revenue, whilst focusing on getting loyal readers who will become subscribers?
Setting up the traditional paywall model called "hard" requires users to pay to access all content and may have a negative impact on revenue by lowering Internet traffic and insufficient subscription sales.
It also makes it impossible to turn occasional readers into the loyal ones, so the whole business model fails – the number of loyal readers who turn into subscribers will end at some point.
According to The Lenfest Insitute for Journalism study, the model of a paywall which works best for most of the publishers is the metered one:
The report states that while the meter is not a silver bullet, it can be transformative for a journalism organization. Publishers doing this successfully have converted their most engaged users into paying digital subscribers without losing advertising revenue, audience, or impact. The metered model can convert the most engaged 5-10% of your digital audience into subscribers. (…) Today, most U.S. newspapers (78%) charge for digital access and most of those (80%) use the "metered" model which preserves ad revenue & audience, while just 4% use "hard" paywalls.
The popularity and universality of the metered model relates directly to its features. Casual readers can read a specified number of articles for free in a period of time (e.g. five per month) while engaged ones, who want to read more, have to subscribe to get access to all content. What is important, in this model page views drop slightly and then recover, so unique visitors remain steady in most cases.
Publishers can make changes and data-driven decisions about the meter limit over time, and then optimize the paywall to achieve even better results. Ads can be still a source of revenue because the newsroom becomes a revenue generator, not a cost center.
All these aspects were taken into account by PressPad, a digital publishing technology company supporting magazine publishers since 2011. Trying to find the best answer to publishers' question about monetizing online content, they have created an innovative business model in the news publishing industry with a better paywall implementation.
PressPad News Paywall Model is an innovation to the news publishing industry, because this flexible mechanism combines what is best in the metered model. The starting point to this paywall model has become publishers' need to stand out from the crowd and connect with readers (including casual ones) in a more natural way to turn them in loyal subscribers.
According to this, every publisher which uses PressPad Paywall Model can offer casual readers free access to the defined number of articles and a free preview of every article, which is the best way to get subscribers.
Thanks to this strategy, publishers can present readers with some part of the available content which would be an encouragement to explore more. This is a chance to show a sample of valuable and high-quality publications. The best way to attract readers is to put in this short fragment the answers to the most asked questions related to the main article topic. It makes this sample valuable for Google and for readers.
Giving readers free values leads to strengthening the ties and creating the habit of reading great articles on a regular basis. It will provide a long-term effect in getting new subscribers.
PressPad Paywall Model offers every subscriber full access to the content without ads. They can experience the joy of reading without any disturbance.
Regularly and fast delivered high quality content is especially important for newspapers, which is why the number of publishers who decided to distribute content via a mobile app has significantly increased. Distributing articles on devices and sending push notifications keep readers updated.
The branded news app is a content distribution channel that is getting more and more popular. One of the reasons for that it is big competition on the market, and the fact that Facebook (to the time, one of the main driver of the internet traffic to the news content) cuts organic reach every day.
According to The Lenfest Institute Research accessing content across multiple devices is one of the basic six characteristics of a likely subscriber.
And this is what people using mobile news app are saying:
It is certain that, if readers treat news publishers as trustworthy, they will come back to their sources of information. Moreover, they will want to be regularly notified about the latest articles or stories.
Potential subscribers subscribe to news as a service. That means, in essence, that they're paying for access to information that helps them live better.
PressPad News Paywall Model is based on readers' expectations of being constantly informed by valuable news, and publishers' needs of getting more subscribers.
PressPad connected all these into the one, comprehensive tool for the news publisher — a news distribution channel in the form of a branded mobile app. This mobile technology supports mobile ads, a donation-based model and the metered model. All that closed into the one, innovative flexible paywall.
It means that PressPad focused on these paywall features which are the most desired by modern publishers. The first concerns the full access to all content after payment. Otherwise, if readers won't pay, they can enjoy a limited free number of articles per month. The publishers choose the option which is in line with their business model.
This is also the answer to publishers' question about how to monetize their online content.
PressPad has concentrated on how publishers can manage this strategy in a more effective way. This approach allowed for offers a differentiated paywall solution for individual publishers' needs. As a result, they can constantly use ads as a monetization strategy even though they decide to use a paywall. Another option is an opportunity for the implementation of full access to content without any ads after payment.
PressPad has created a flexible solution which gives the power to improve the revenue stream as well as the number of loyal readers and subscribers. It also guarantees that the lives of news publishers will be full of innovation and revelation.