News apps improve the experience of blog or web magazine on the mobile devices.
They help publishers increase mobile retention to their content and keep readers updated about the latest articles with real-time notifications. That's more natural and neutral way of communicating to mobile users than sending email newsletters.
Don't take my word granted. Challenge this statement and explore what readers say about using these type of mobile apps.
Wait, but what about RWD?
Responsive website design (RWD) took the online world by storm. It's more than necessary to serve content in the mobile devices optimized way. It's because of the first impression matters. People decide whether to stay or abandon your website in a first second of using it. Sometimes even before the site loads the decision is already made.
RWD is very important. Properly implemented responsive, fast loading website can save you lots of money improving conversion to a website.
When consumers visit your web magazine or blog the first time they're often in rush: traveling, during the meeting (yes!), and they do not have time to wait for your website to load or to manually adjust the size of the screen to fit the mobile device they are working on.
This one-second moment is the reason to give up the visit for the uncompromising user. Just like in a binary game — 0 or 1, nothing in between.
Behavioral pattern of the mobile users is quite coherent. They check lots of links and bounce off the websites very often. That's why responsive web design is so important in the reality where mobile devices Internet traffic is higher than those generated from the desktop computers.
If the user survives these milliseconds of terror and stays on your page long enough there is another level to accomplish in the game for the loyalty throne.
The question is how to make them come back or get exposed to your content even if they are off your website?
The News apps love
So, while responsive design let new visitors experience your website in a proper manner on the go, the branded "News" app attracts the returning ones.
The branded mobile app has the ability to stimulate loyalty building and pulling its users deeper in the conversion funnel. Many popular brands don't make choice between responsive web design and branded mobile apps. They just use both technologies to improve mobile users retention and brand awareness.
Brands like Amazon, YouTube and Buzzfeed have figured out this long time ago that mobile apps work on the deeper level of their conversion funnel. They are armed with both a mobile app and a responsive website.
As you probably have heard, statistically around 50% of the blog visitors never return. Our news apps make these people come back and increase mobile readers' retention.
These type of app provides great mobile reading experience. They are optimized for mobile, so readers get the best experience on any mobile device.
It notifies readers whenever you publish something new and they work offline.
Well, folks literally love using it.
Seeing is believing
Here are some of the opinions shared on Twitter by the readers of Mets Merized Online — a major league baseball site for New York Mets fans. This fans magazine is very popular and scores around 500,000 visitors per month, and is proudly powered with news apps by PressPad on Google Play and Apple App Store.
What do people say about Mets Merized app on Twitter?
@MetsMerized FYI – loving the app! Keep up the good work – it's appreciated. #LGM

— Lisa Wider (@MissMyAgs) April 8, 2018
Well regardless on how we do, the new app is kick ass! Great job.

— Klemz (@DrewKlemz12) March 1, 2018
Awesome job with the app! It looks great!

— Osmar Padilla (@oypadilla) February 28, 2018
Congrats Joe DeCaro! Excellent job with the Metsmerizedonline app! It looks fabulous and gives a diversity few blogs or even sites have. Now, Metsmerized is at my fingertips!
I can keep up with headlines and content with immediacy.

— Michael D. Lloyd (@MDLloyd8) February 28, 2018
Just downloaded app! Looks good and plays well!

— Young Ideas (@DickYoungsGhost) February 28, 2018
There are more fun apps, magazine readers love using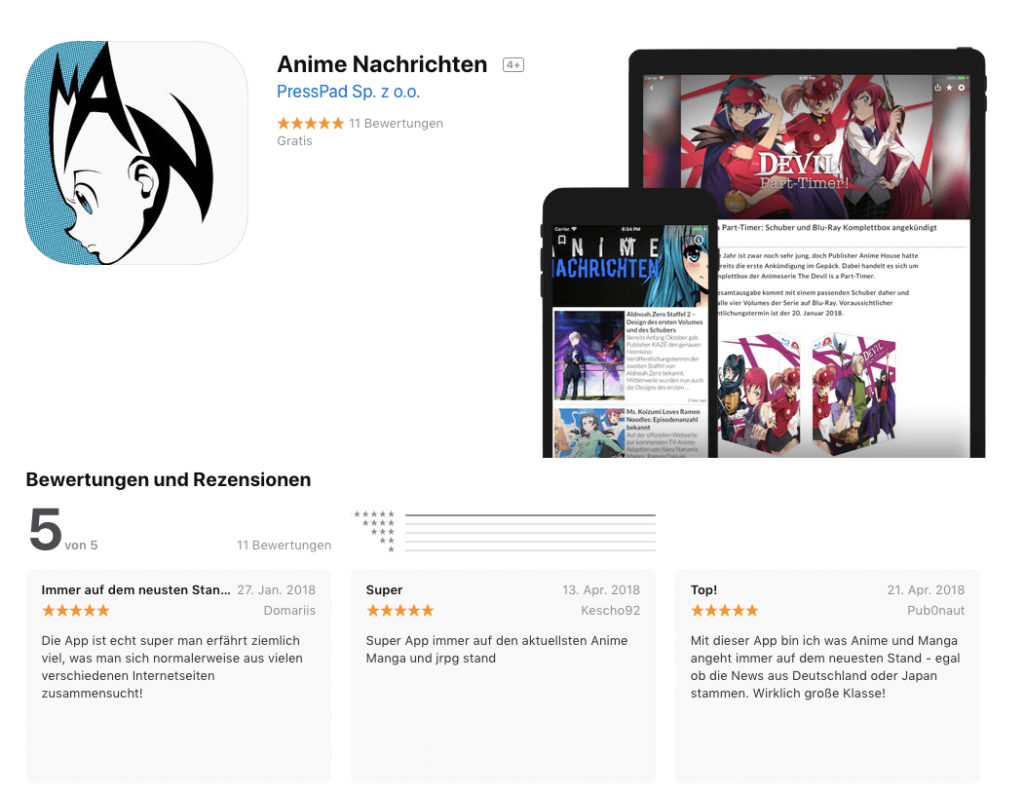 Anime Nachrichten is a German fan magazine about anime. It provides the latest news about anime, manga, games reviews, and interviews. Taking into consideration its language localization this online fanzine is very popular with around 90,000 visits per month. The measure of the popularity is that Android-based app has over 10,000 installs from Google Play with 196 positive reviews. Wow!
Hint: Anime Nachrichten app success in Google Play is a great illustration of the thesis why publishers need Android support for branded news apps.
What do people say about Anime Nachrichten app on App Store?
Super App immer auf den aktuellsten Anime Manga und jrpg stand
Google translation — Super App always stand by the latest anime manga and jrpg
Mit dieser App bin ich was Anime und Manga angeht immer auf dem neuesten Stand – egal ob die News aus Deutschland oder Japan stammen. Wirklich große Klasse!
Google translation — With this app I am anime and manga always up to date – no matter if the news comes from Germany or Japan. Really great class!
Cord Cutters News is covering cord-cutting news and reviews. This web magazine is delivering all the news the one needs to get the most out of being a cord cutter. Its massive popularity confirms the trend. Roughly 1,600,000 visitors per month. That's a huge amount. So, the fact that the app keeps an average 4+ score in App Store reviews is a huge yes yes yes for the News apps team in PressPad.
What people say about Cord Cutters News app on Google Play
great app no issues very helpful for what i need its to the point and easy to use thank you for making this app hope for the best for everyone involved this app is a real time saver no longer have to hunt down the news
Source on Google play
Everything from the facebook group, only MUCH FASTER and the post don't get filrered out. Good job Luke!
Source on Google Play
A very good app. This is an easier way to read the news from the website on Android mobile devices.
Source on Google Play
Designed for WordPress
Currently, PressPad News is dedicated to WordPress publishers.
You may ask why WordPress?
Well, it's because 30% of the web uses WordPress, and it's open source. It's solid and under constant development by the strong WordPress community. WP has lots of plugins available for free and the whole universe of responsive design themes. Even our own blog is powered by WordPress with "content first" theme called "Period" by CompeteThemes.
— What the hell is "content first"?
Well we asked that question to Ben Sibley, Compete Themes Founder.
Ben Sibley: The "content-first" design philosophy is about making themes that serve your content as best as they can. After all, people don't visit your site to see what it looks like — they want to hear what you have to say.

Period has been designed to accommodate any kind of content that gets published. Titles should never be rewritten to fit a template! It uses a lot of whitespace and minimalism so visitor attention is kept on the content, and carries the same aesthetic over to mobile devices where an increasing number of readers are experiencing the web. All of this is done to ensure that more people read and engage with whatever you publish on your site.
— Why you decided to work on WordPress themes, not Joomla or other CMS?
Ben: I first started making sites in 2010, and at the time, WordPress was by far the easiest solution for a non-developer. I learned the ins and outs of the CMS launching and running various sites. After finding too many of the themes I tried confusing and unreliable, I decided to make my own.

Over the years, WordPress has evolved into a mature and extremely feature-rich platform. While there are simpler options available now to set up a quick site, I think WP is the best solution for anyone serious about building a popular website.
— Web magazines like WIRED are built on WordPress. How do you think, what's the key feature that convinced them to build their publishing business on this CMS system?
Ben: WordPress has a unique mix of simplicity and extensibility. People used to look at WordPress as only a blogging platform, and now they say it's too much for blogging. Well, it's both.

If you want to run a blog, you'll need an attractive and customizable theme, a commenting system, you may want multiple authors or guest contributors, etc. It's deceiving how much a simple site really needs, and all of this is available in a standard WP installation.

If you want to build something way more complex, why not start with a set of APIs that already work and are live on 30% of the web right now? It's hard to find reasons not to use WP for your website, app, or otherwise.
Excellent!
Thanks Ben.
So the similar concept goes for PressPad News.
We provide native apps that the main "feature" is content
Based on the growing demand for the news apps we constantly develop this line of software. Our main goal is to enable publishers to make the best use of their content.
The true obstacle these days for many publishers is the inability to content monetization via different distribution channels. Blame anything but the main reason for this is usually the same approach to content distributed in different channels like print, Internet, and mobile Internet.
We want to provide a solid publishing platform that fixes it. Adding News apps to our product line and the latest new-features release brings us closer to achieve this goal. You can discover them in the article about tools for WordPress and how they may help content producers.
However, if you think that going beyond the WordPress is inevitable, tell us about it in the comments below.
Mobile apps platform for publishers
Native mobile apps for WordPress blogs and online magazines.
Brands like Amazon, YouTube and Buzzfeed have figured out a long time ago that mobile apps attract returning users.
Learn more about PressPad a mobile platform for publishers »