Coronavirus crisis affects the news industry. People are demanding accurate information. The growing importance of local journalism is a fact. But how does news publishers can come closer to readers with accurate information?
According to the Facebook announcement the news industry is working under extraordinary conditions to keep people informed during the COVID-19 pandemic.
Facebook announced an additional $100 million investment to support the news industry. The fund will be split "$25 million in emergency grant funding for local news through the Facebook Journalism Project, and $75 million in additional marketing spend to move money over to news organizations around the world"
Nancy Lane, CEO of Local Media Association said that "this money will not only help keep journalists reporting right now amidst the crisis, the funding will also fuel opportunities for local media to accelerate business transformation toward a more sustainable digital footing". You can read the original announcement on the Facebook Journalism Project page.
How do other publishers adjust?
Businesses adjusting their profiles and operations during the COVID-19 pandemic. Many publishers are among them because waiting and doing nothing is a killing factor more than ever.
Essentials Magazine Australia is all about the latest news and reviews on food, wine, hotels, art, and design trends.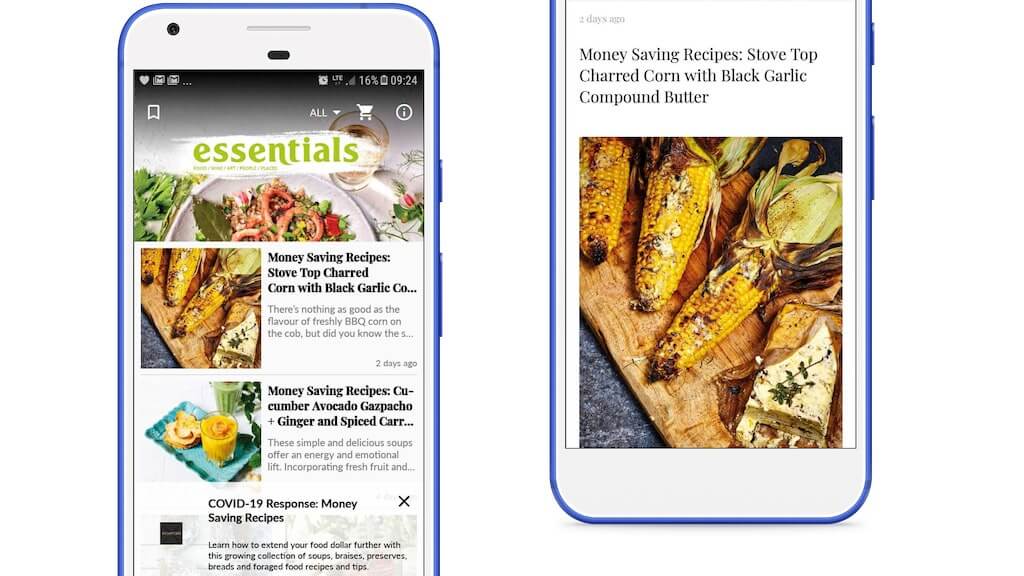 Once the readers' attention was stolen by the pandemic, editors of the magazine focused on helpful articles about making money-saving healthy food from limited resources.
2. The Travel Magazine provides highly informative, upbeat and inspirational articles for people who love to travel.
While traveling around the globe have stood still, the magazine publishes articles about useful information about traveling online, via the digital resources of the museums available on the internet.
The mobile economy is growing.
Paradoxically the Coronavirus situation makes the mobile distribution even stronger than before because government lockdown policies have increased consumers' demand for mobile.
PressPad News Contributes Too
Our goal was always to support the publishing industry with modern digital distribution platforms. We can help you build your digital distribution in these unprecedented times for publishers. That's why we offer 1 on 1 help and the discount for life if you are the publisher affected by the COVID-19 situation.
---
Branded News Apps let the news publishers effectively distribute the most accurate information.
Learn more about News Apps »
---
With the news app from PressPad, your readers stay on top of your latest content published on your website. Offline mode for saved articles helps them read even during Internet outage, and the selection of "contribution-buttons"; Buy a coffee, Subscribe, and Support Me buttons help monetize on your content.
Let's go through this challenging time together.
Contact us for more information.