Facebook is a great selling tool. How to take advantage of its potential during the sale of a mobile magazine? Later in the article you will also learn how to promote your digital releases best on Facebook and Twitter using Facebook Newsstand.
At the end of 2013 we promised our publishers to help them in sales. It is our priority, and so as early as December we released our first sales supporting tools in the form of beautiful Automatic Widgets and Apple Smart Banners, which when placed on the webpages promote dedicated magazines, directing the user to App Store and Google Play Store.
Our next step is using the tremendous potential of Social Media. We present our publishers with Facebook Newsstand, a tool which is an online store every publisher should add to his/her Facebook page.
Simple Installation

Log in to your PressPad publisher's panel
Choose the sprocket wheel (see above) icon from the top drop down menu
In the new view, click "Facebook Newsstand" tab in the left menu
Now click the green button: "Install tab on your Facebook page"
If you are logged on to Facebook, choose the page to which "Facebook Newsstand" tab is to be added from the list.
That's it!
TIP: You can add your Facebook Newsstand tab to multiple pages you administrate!
Facebook Newsstand
The store with releases displayed in the tab on Facebook gives access to all issues of a particular title. Thus, it is worth uploading past issues to your panel – we don't charge any additional fees for that! A bigger number of issues available affects selling the magazines in a positive manner.
TIP: The tab is available under its own URL address, which can be linked to in e-mails and Social Media, while the link itself can be shortened by such tools as bit.ly or goo.gl.
How to use it – good practices
In order to fully take advantage of Facebook Marketing potential, remember to prepare yourself aptly. Add free sample issues to your magazine and upload past issues to your store.
On Facebook. Inform your fans about the new tab and share the link on Facebook. You can do it periodically, e.g. once a week. The promotional post should comprise three elements: a text, a graphic and a link to the tab.
Tip: Use a screenshot of your magazine or a part of its page with interesting content as the above-mentioned graphic (e.g. a clipped interview, or a picture not fully visible, available only in the magazine)
On Twitter, use hashtag pairs by which your new readers will be able to find you in this social network, e.g. #reading #wedding or #whattoread #fashion etc. By directing Twitter users to your Facebook magazine store you can get new likes.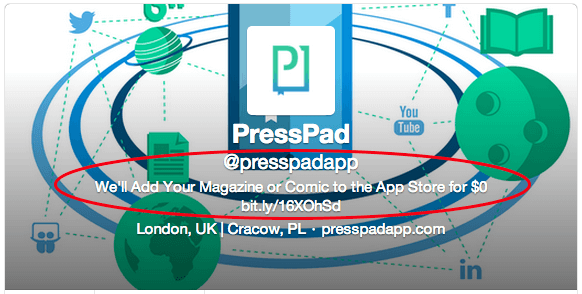 Tip: Add your shortened Facebook Newsstand link to your Twitter account description in the same way we did it in our PressPad account .
If you have any questions on using your Facebook Newsstand tab, feel free to discuss it in the comments.