The mobile app development took us a while but it was worth waiting.
PressPad, a mobile app development company, has entered the new year with a bang, by announcing a new mobile magazine app for iOS. This is another step forward in the company's evolution which is a follow-up to the redefinition process of PDF-based apps. Their new product is not only a nod to publishers who want to reach readers using iPhones and iPads, but also a stress on the role Apple plays in PressPad apps' development, since their beginnings.
If someone asked you what you associate with Apple, what would you say? The world's famous bitten logo that is a masterpiece of design? Charismatic founder Steve Jobs, whose image we all remember as a man in a black turtleneck and jeans? Or maybe devices such as iPhones or iPads?
For magazine publishers, Apple is much more than the above few associations. It is an opportunity to charm over a billion App Store visitors with content in the mobile version. One of the paths leading to this goal is through PressPad's new magazine app designed to more effectively reach iPhones and iPads users, and to offer readers facilities that go far beyond the print sphere.
If you want to reach readers using iOS devices with your PDF content, be sure to check what new things we've prepared for you.
New PDF-based magazine app for iOS
Mobile app development for iOS and Android is only one side of our business, the other side is dealing with Apple and Google in the name of our customers, so they do not have to invest time and money to gain that knowledge. That's on us. When Apple introduced the fourth-generation iPads and the iPhone 5 in 2012, PressPad launched its first iOS app for publishers who wanted to go mobile with their content. What did we feel then? We knew we were opening new doors, giving exciting opportunities, and contributing to the beginning of an absolutely new era in publishing.
Similar feelings accompany us today, although we are in a completely different reality, place and time.
Last year showed us how important it is to have access to reliable information immediately; it speeded along the publishers' decisions to enter the digital industry and proved that buying goods online – including content – became the norm. It was a year in which we were all trying to find ourselves in a new situation and looking for a new direction.
We have already found it.
Today, we can say we enter 2021 with a product that is ready for the most demanding user of the future.
What is the new PressPad PDF-based magazine app?
This is an app designed for publishers wishing to reach their readers who use iPhones and iPads. It allows for comfortable reading on these devices, gives great opportunities to experience content, and fits in the "all-in-one trend". In a moment you'll find out what's behind it.
What makes the PressPad iOS app so special?
The general look of the app is modern and clear thanks to issues presented in two transparent rows that you can swipe to look through the whole library, which makes it very convenient to browse through the issues.
Thumbnails of magazine covers are sizable, and thus clear and visible.
Each magazine number has little icons on the right which mean: preview option (blue badge), the possibility to buy (green badge), and the latest issue/issues (orange badge).
After expanding the left side app panel, you'll find a social media feed that allows you to go directly to Facebook and/or Twitter by just one click. This innovative redesigning is an effect of a fresh and modern approach in mobile app development.
What does this magazine app bring publishers?
One app fits both iPhone and iPad.
Publishers can publish their magazine issues in an easy way thanks to an option to upload the existing PDF files without any changes from their PressPad account.
It is super fast and effective to have all of the past issues published on the App Store. The time to market is very short.
The iOS app has a new design and allows for individual customization. Publishers can set their own colors to make the app compatible with the brand and stand out from the others – interface, upper beam, logo, and the background can be tailor-made.
For those the most demanding, we've prepared a special premium option consisting in make their website available in the app. Simply speaking, while using a native app readers can also explore the website content in the same place. Thanks to it the app brings together different types of content providing a deeper brand experience level.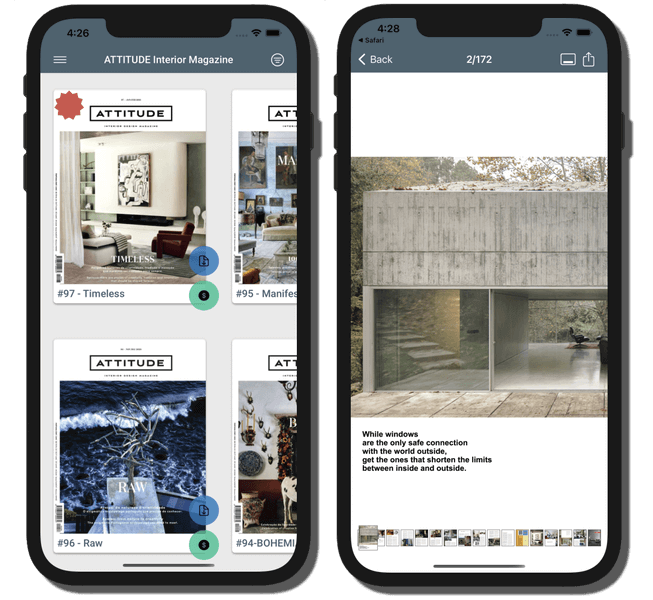 What does the app give readers?
The app is based on an "all-in-one trend". It means that from the main menu the readers can not only go to magazine issues, where they have the possibility to read, swipe, buy and subscribe, but they can also easily connect with a website and social media like Facebook and Twitter.
Page view screen in the app allows users to view content and go deeper into the articles easily.
All icons and symbols are easy to understand.
The app is easy to use, lightweight, and navigating is not difficult even for less tech-savvy users.
Mobile app development doesn't necessarily have to be expensive. Are you ready to conquer the App Store?
We always paid great attention to the creation of every app that was made over the 10 years of our existence on the publishing market. After we launched our new Android app a few months ago, we already knew that its iOS counterpart will go live in a short time.
An iOS app is the apple of our eye.
Publishers who cooperate with us don't need to hire programmers and be bothered about the App Review Guidelines and dealing directly with Apple – we take it on ourselves. There's one thing you can be sure of – when it comes to app development, we haven't said the last word yet.
If you want to see how your magazine would look like as an iOS or Android app, we will prepare a demo version for you without any obligations – are you in?
Let's talk about the mobile future of your digital magazine.