Digital Publishing Has Never Been Easier
Single or Multiple Edition App
PressPad mobile apps allow you to distribute free or paid content. Providing social media integration features, this is an excellent solution for magazine publishing or B2B controlled distribution.
Boutiques can disseminate their catalogues and engage customers with push notifications. Single Edition App is the perfect solution to leverage your mobile marketing.
Let Your Content Shine With Native iOS and Android Apps
No Coding Required
It's as easy as typing and takes two minutes to set up. Simply upload your magazine's PDF file into your PressPad account. Then follow the configuration steps and order your mobile app.
You'll be notified by email once your app is ready to publish on the App Store. If you don't like what you get, then no worries – you can walk away without being charged.
Learn Mobile Marketing from the Experts at PressPad
Digital Marketing Tips
We have boosted the distribution numbers of hundreds of publishers worldwide. Use our experience to your advantage. We share our knowledge with you on our digital publishing and marketing blog.
Why we do this? Well, we believe that knowledge should be accessible free of charge. It is up to you to decide whether you will use it independently or whether you will request support from the experts at PressPad.
Easy To Start, Multi-Platform, and Cost-Effective
Publisher friendly by design
We know you're busy, so we designed PressPad with your convenience in mind. Usually, you can use your existing PDF files without any changes.
As a result, it is super fast and effective to have all your back issues (past issues) published on the most popular mobile app stores and in your branded e-kiosk. With PressPad, your time to market is very short, and your digital publishing ROI is positive.
Instant Publishing
Once your mobile app is live in the App Store, new issue publishing takes mere minutes.
Simply upload your PDF using Dashboard, click Publish and the content is already in your app!
The same goes for the flipbook e-kiosk. You can start your flipbook app within a day,
upload and publish an unlimited number of files instantly.

Register →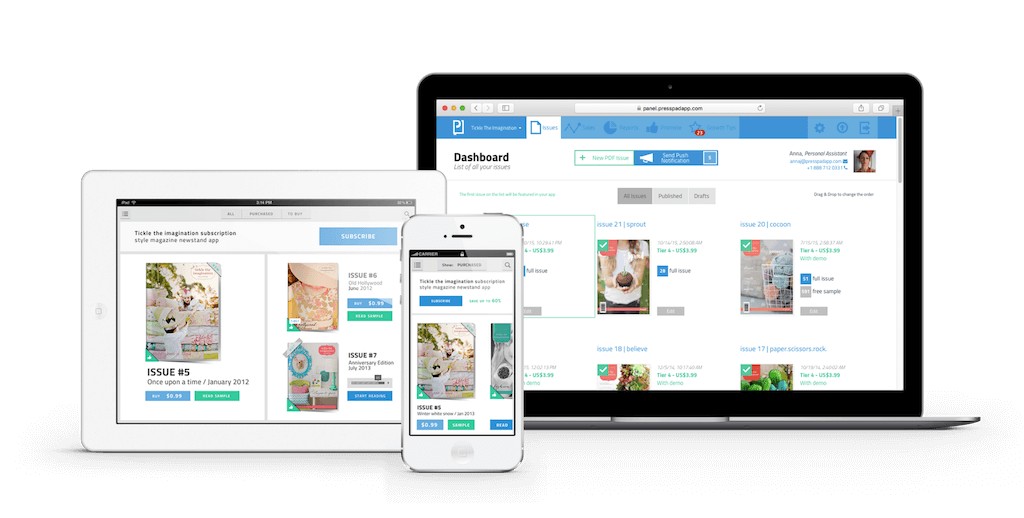 Customer Testimonials
We have published hundreds of magazine apps, thousands of digital issues, and served millions of readers worldwide — take a look at what our publishers have to say:
400+
Happy customers