Complete control over your magazine
You will use our web-based panel to manage everything about your magazine app.
Here are some of the features you will use most often.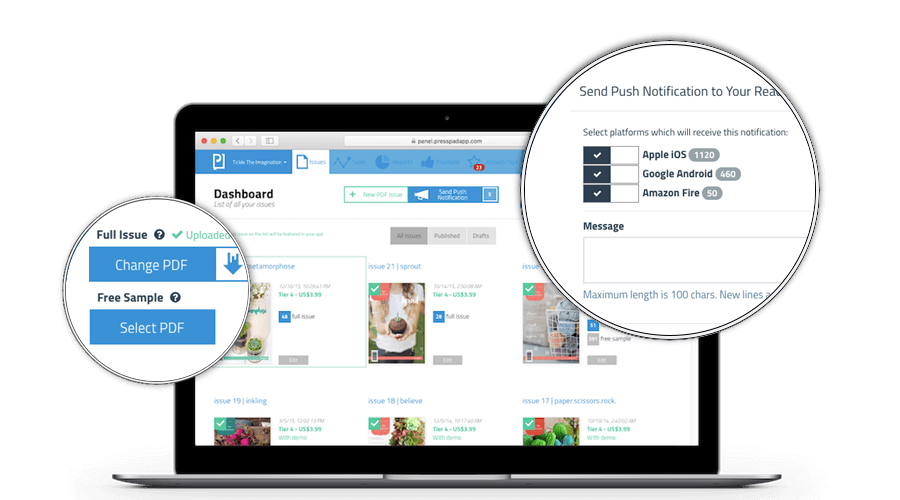 PDF support & Flipbooks
We accept all sizes and resolutions of PDF files. Simply export the PDF from your favorite DTP tool and upload it to PressPad. Our HTML5 flipbook solution provides real-time high fidelity rendering.
No software required
Access your PressPad account from any computer or mobile device.
Instant publishing
Upload your PDF and have it ready to distribute over your mobile magazine app in seconds.
Sample issues
When you upload an issue we automatically generate a sample for it. You can also upload your own sample if you like.
Cover replacement
Replace your original cover with a .jpg file even if your magazine has been published.
Push notifications
Send a Push Notification to build awareness or whenever you need to connect with your mobile readers.
Live stats
Watch in real-time as your issues are downloaded and bought.
Sales reports
Download detailed sales reports in CSV format to import into your accounting tool.
Good for your publishing business
As your apps are installed by users from around the world, you may worry it's going to cost you a fortune. Fortunately, it won't!
At PressPad, we believe that publishers' success is our success. Publish as many PDF files as you need without restrictions on page quantity.
Unlimited issues
We encourage our clients to upload their whole archive to PressPad.
Huge files support
Whether you publish a 300-page photo catalogue or a 16-page fan zine about X-Men, you can upload your PDF file to PressPad without any problems.
Unlimited downloads
Unlike our competitors, we want you to have millions of downloads because this usually means your magazine will sell well, which is our primary focus.
No IT knowledge necessary
PressPad does not require you to set up a developer account with Amazon. We handle all that for you.
No Amazon Developer Accounts
PressPad does not require you to set up developer accounts with Apple or Amazon. Again, we handle that for you.
Your Developer Accounts Support
Apple and Google require you to use your own developer account to be able to publish on Apple App Store and Google Play. If you don't have one, don't worry, we'll provide you with step by step instructions, and if necessary, we'll give you advice over the phone.
White-Label Upon Your Request
Want to hide our branding and build your solid mobile presence without a middleman? Just let us know, and we'll create it for you.
Multi-Language Apps At Your Service
Our magazine apps are available in many languages: English, Japanese, Polish, Spanish, Portuguese, German and Arabic. Let us know if you can't see your language.
Valuable features for publishers
Use PressPad, and you will take your magazine to Apple App Store, Google Play, Amazon Appstore, and your branded flipbook e-kiosk faster than you can imagine. Your readers will download your magazine app to their devices and use it to read your content anywhere they are. In addition, our HTML5 flipbook e-kiosk can be a complementary solution to mobile apps or a gamechanger if installed on the most popular pages of your website. Here are some of the features your app will have.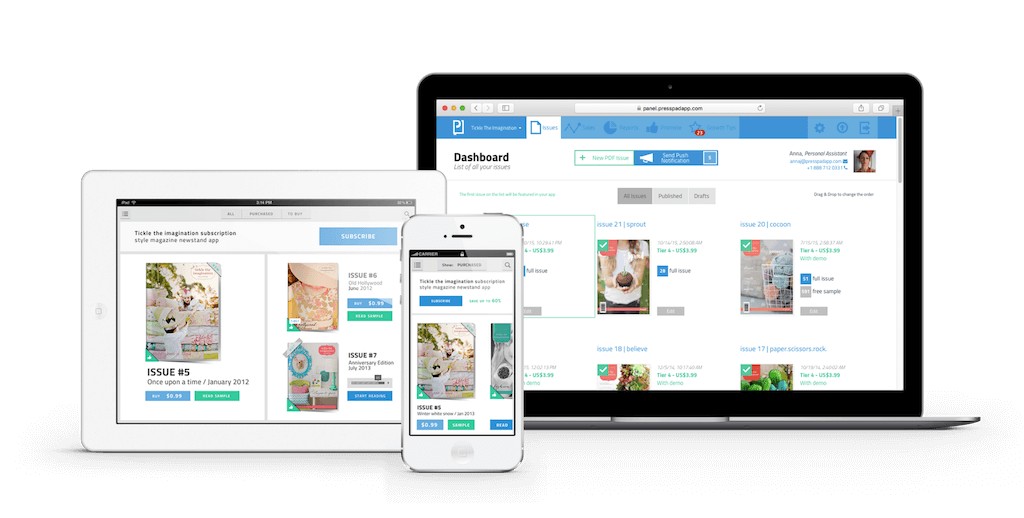 100% native mobile apps
Your apps from PressPad will be 100% native code on both Apple iOS and Google Android. This means speed, reliability, and excellent user experience.
iOS & Android compatibility
We support the latest iPhone, iPad, and Android-based smartphones and tablets. Readers using the various mobile platforms can install our apps from the official app stores.
Kindle Fire support
Amazon App Store for Kindle Fire is the leading distributor of apps dedicated to the Kindle Fire family.
HTML5 flipbook e-kiosk
Offer PDF-based print replicas for desktop users. Let people purchase and explore your PDF publication on their computers. Easy to install on your website.
PDF support
Every issue on users' devices will look 1:1 the same thanks to the PDF format.
Video Player
When the user taps on a YouTube or Vimeo link in your issue, the video player will show up and immediately play the link.
Audio Player
We support SoundCloud links in PDF files. When the user taps on one, the audio player will pop up, and playback will begin. (beta)
Interactive PDF
PressPad supports hyperlinks in your PDF file. Create internal and external hyperlinks to provide a better experience to your readers.
Super easy to use
We follow industry standards for user experience and use typical navigation solutions.
Offline reading
Every issue is downloaded to the user's device for their convenience.
Social media integration
We fetch your Facebook and Twitter posts and displays them within your app sidebar. This brings your readers closer to what's important or new.
Small footprint
It's often overlooked, but app size does matter. Your app from PressPad will be light on your users' bandwidth, with a size of less than 7 MB - 14 MB.
Sales and Digital Marketing Tools for Publishers
In our journey to help publishers transition to mobile apps, we know you probably could use some help in promoting your mobile app.
Here are the most popular features that our clients use to create their digital distribution channels and increase their brand recognition.
Web store
Sell through your own website. Readers can pay with PayPal or credit card and read your content on their iOS or Android devices.
Facebook newsstand
Sell mobile issues directly through your Facebook fanpage.
Website widget
Display an automatically updating ad of your mobile magazine.
Smart App Banners
Tell your website visitors about your smartmobile app.
App Store Optimization
At PressPad, we have published hundreds of magazine apps – let us fine-tune your listing.
Automatic push notifications
Engage readers with custom messages reminding them of your app.
Free resources and blog
Publicly available free ebooks and the blog about digital publishing and ways to increase your mobile sales.
Free premium support
With each PressPad account comes complimentary technical support for you AND your readers.