Digital magazines have ceased to be products created only by publishers as we traditionally understand them. The rise of digital publishing platforms has made more and more non-publishers brands are preparing and distributing online publications independently. As time moves on, the line between the business world and publishing is blurring. This heralds an exciting new chapter of engaging customers in more innovative and creative ways, in accordance with the principle, every company is a media company today.
This phenomenon is observed primarily in the e-commerce industry. Entrepreneurs have noticed that selling products digitally cannot be complete without offering proper online content, while social media channels or blogs are definitely not enough to achieve satisfactory sales results today. Digital magazine has become a solution helping to meet these needs.
If you're running (or planning to run) an e-commerce store and thinking about extending your content strategy this article is for you. It answers a few basic questions. Does publishing digital magazines by e-commerce is only a temporary trend or a solid long-term strategy? How do well-known brands manage their online publications? What is the recipe for success?
If you're curious to know the answers, read further.
Digital publishing & e-commerce – overlapping worlds
The increase of companies moving to the digital sphere and the accompanying growth number of people buying online has been going on for years. The worldwide crisis triggered by the Covid-19 pandemic has only sped up this process. Studies show that pandemic-induced consumer behaviors are here to stay.
It means that…
E-commerce will grow
Online shopping is one of the most popular internet activities worldwide today. According to eMarketer, in 2020, retail e-commerce sales worldwide amounted to 4.28 trillion US dollars and e-retail revenues are projected to grow to 5.42 trillion US dollars in 2022.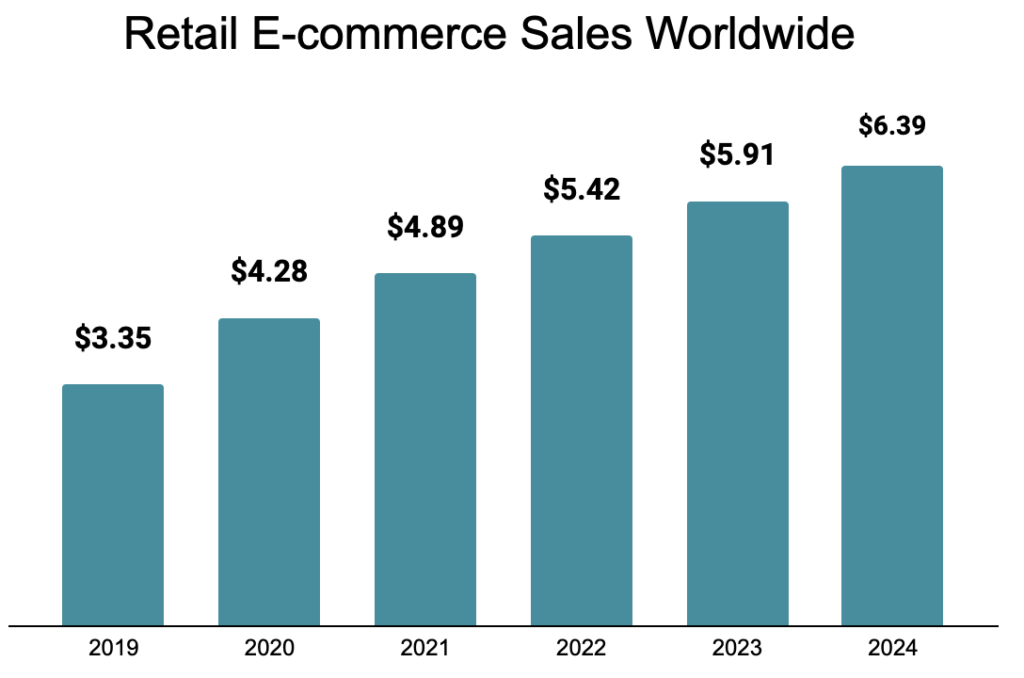 The upward trend applies not only to the United States.
People around the entire world have fallen in love with purchasing goods, services, or content online. What are the reasons for rising the number of digital buyers?
Convenience – buying things online while sitting at home is faster and easier than hanging around in a crowded shopping center for hours.
Accessibility – e-commerce gives a chance to buy products from every corner of the land.
Competitive price – some digital stores offer lower prices (they don't have to pay for storage of products in the warehouse).
More incentives – digital buyers are influenced by a range of online resources during the shopping process such as ads, newsletters, product reviews, etc.
Technology development – the range of devices with internet connection allows products to be purchased almost anywhere and anytime.
Changing habits – pandemic lockdowns have forced many people to shop online, and this trend is continued.
New generation – each new young generation will be more closely associated with the development of technology and thus with online shopping.
As a customer who orders clothes, tech products, books, courses, or other goods via the Internet, you probably notice these benefits. When you stand on the other side as a salesperson, you have to remember that despite the above advantages of online shopping over traditional, these two processes are, in many aspects, similar to each other.
Every shop requires digital marketing
Running a shop, no matter if it is a traditional stand or an online store, always requires properly prepared sales funnels, and a number of strategic, marketing, and advertising actions, such as SEO activities, paid advertisements, active profiles on social media channels, or building a mailing base.
Regardless of the type of store, the sale isn't linear. "I see the product for the first time and buy it immediately" – it doesn't work like that. The customer has to compare a few items and prices, read the reviews, see what the competition offers. This is a normal purchasing process.
To be effective in the digital sphere entrepreneurs must have an efficient content marketing strategy that shortens the conversion process.
The thing is customers don't need help to find a product online. They need help to sort through the endless internet resources full of stuff they could buy at any time.
We know a great way to do that.
Well-prepared content which is adjusted to the target group has endless possibilities. That's why more and more e-commerce brands are starting to run their own digital magazines.
Researches conducted in Germany show that 93 percent of the largest online local retailers have a digital corporate magazine. It means 28 of the 30 biggest online stores have at least one company publication.

One of the factors of such popularity of digital magazines is the ease of preparation and distribution of this type of publication. The availability and universality of publishing platforms meant that modern publishing is not necessarily connected to preparing paper issues, printing, storage, local distribution, reprinting, and all this confusion.
Magazine publishing in the digital dimension is less complicated, faster, and cheaper than print.
Any proof?
If you want to establish your own online e-kiosk including magazine issues or have a mobile app which is the equivalent of a digital magazine with a purchase option, the only thing you need is a PDF file with your publication.
This is how we work at PressPad. Making digital publishing as easy as it's possible has always been our motto.
Our customers upload their publications in PDF format to their PressPad accounts thanks to easy to use control panel. Then we create a digital flipbook e-kiosk or/and digital print replica app. There's also a possibility to start with a dedicated demo.
After that, the publishers can manage digital publications on their own: upload new issues, set prices, etc.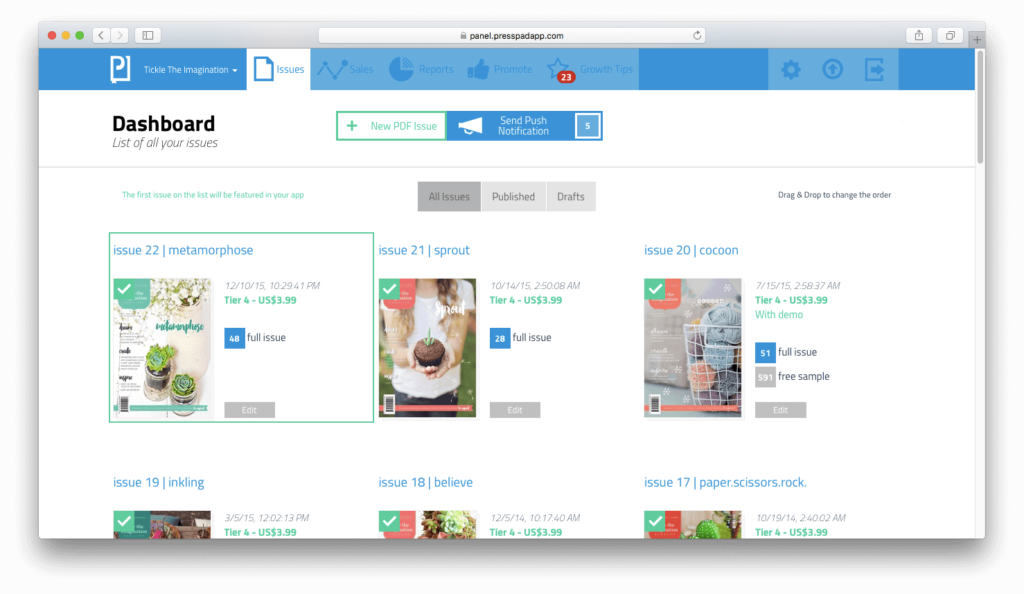 This ease and accessibility allow many brands, including e-commerce, to create in-house magazines which are the single best format to connect content with products. Businesses that are specifically not publishers are using digital magazines to generate brand engagement and customer loyalty.
This is just the beginning of the benefits.
The role of digital magazine in e-commerce
It is hard to imagine any business today without active social media accounts, online advertising, campaigns, cooperation with influencers, newsletters, mobile apps, etc. Of course, all of these marketing activities have a purpose – promotion of products and companies, tightening the relationship with customers, informing about the brand's news.
While digital magazines also play the same roles, they come with a kind of class and the style of prestige that may not necessarily be associated with blogs or Facebook posts. Publishing a magazine is pretty special.
The magazines published by the non-publishers brands are nothing new. Traditional stores have published printed magazines for years. Along with the transfer of trade into the digital sphere, there was a need to do the same with magazines.
There was now an emerging new market out there that combines publishing (content) and products (commerce), called "content commerce". It is nothing but content marketing in a different form.
Why do e-commerce stores publish digital magazines?
While we have already mentioned a few general reasons, the topic requires a bit more analysis. The list of arguments (below) is not exhaustive, although largely answers the question of why entrepreneurs decide to create their own digital magazines.
Digital magazines are tools to promote products and increase online sales
Magazines are a way for brands to market products by providing rich, relevant content that offers value to a targeted audience. The goal isn't direct selling but inspiring readers, keeping them up-to-date, recommending products, and helping customers make good choices.
The perfect digital magazine keeps customers enthusiastic about the brand and the lifestyles associated with the products and services the company offers.
Selling in today's world is based on emotions and storytelling
How to make a product sold while there are many similar items available on the internet? Wrap it in an emotional story adding great photos.
It's not a secret that we all buy stories and emotions instead of products today. Digital magazines are the best tools to build product stories that as the result instill in the minds of future customers' thoughts about the product.
Building and increasing loyalty is a basis for selling online
E-commerce companies can increase brand loyalty by providing a connection to their ideal, targeted customers, giving them high-quality content that's relevant, engaging, and inspiring.
Digital magazines can be the representation of brands' businesses, enabling them to strengthen their bond with customers. Creating your own digital magazine can definitely help your online store to get loyal, returning customers.
Companies can cost-effectively produce and distribute digital magazines
You only need a PDF file to create a high-quality editorial magazine with enticing visuals or shoppable videos that attract readers. Preparing a digital magazine for e-commerce isn't starting from scratch – you've already had many materials, and… customer data to use.
Hyperlinks have selling potential
Digital magazines open up a completely new revenue stream potential thanks to the possibilities of click-to-view, click-to-buy, and click-to-share interactions, and ultimately, get a clearer view of conversion data.
In fact, one click on the product in the magazine leads the reader to an e-commerce website and purchases. Such a combination is something that traditional commerce and print publishing simply does not offer.
Brand magazines let companies stand out in a digital world
Brand magazines' goal is not to compete with traditional publications. However, the best of them are raising the bar, offering quality editorial content and artful design that can inspire and improve the industry. Publishing digital magazine independently prepares brands for the future and puts them in the role of specialists.
Brand digital magazine – who's doing it right?
All right, all right, enough with the theories. It's time to see how it looks like in practice.
Here're some case studies of well-known brands you probably heard about. All of them have a great e-commerce strategy that is based on content diversification. Let's take a closer look at their digital magazines.
Example 1.
Name: Huckberry
Website: www.huckberry.com
What they do?
According to Men's Journal, "Huckberry is where man should shop online." Men's Health claims that "Huckberry delivers stylish and durable clothing you'll want to live in".
One way or the other, Huckberry is an independent online retailer offering a wide range of products for men. They sell something more than clothes, kitchen tools or, gears – they sell… lifestyle.
As they say, "we envisioned a brand that was equal parts store, magazine, and inspiration to help guys suck the marrow out of life."
About their digital magazine:
When you enter their main page and click on the category "Journal", you move from catalog products to inspirational content divided into a few sections like adventure, diversions, style, wellness, etc. This is one of the examples of how Huckberry uses content marketing to get readers to their site. Alongside product descriptions, their digital magazine includes articles about traveling, DIY tips, cocktail recipes, and interviews with influential men.
What's important, their social media channels are used more for promoting these stories than presenting products. Almost every post treats about an article from the journal and links to it.
If you don't want to miss new stories, sign up for their newsletter. In addition to reviewing their products, you will also receive a summary of fresh content by e-mail.
"Huckberry turns its travels and product tests into content for its email newsletter, which goes out to more than 1 million readers three times a week. Some 20% to 30% of them open it to browse through its journal entries, music recommendations and product promotions, and Huckberry sees a spike in sales as that happens. It's definitely our most profitable channel." – Ben O'Meara, head of marketing, says.
The key to success: connection strong content strategy with the creation of a special lifestyle.
Huckberry uses storytelling to build a community of customers who share their passion for outdoor living. All their sources – website, newsletter, journal, social profiles – are filled in content related to adventure and wonder of the outdoors. Their Journal is not about selling; it's about fostering these authentic connections with customers.
Example 2.
Name: Red Bull
Website: www.redbull.com
What they do?
Is there anyone who has never heard about them? "Red Bull gives you wings" is one of the most known advertising slogans.
Besides creating the best-selling energy drink in the world, Red Bull is engaged in different art programs and sports events. They are like a multiorganization: beverage brand, media company, event operator, team owner, marketing agency, rights distributor. Their e-commerce business offers clothes and accessories for men, women, and youth.
About their digital magazine:
They've been publishing an international lifestyle magazine called The Red Bulletin since 2005. It features sports, culture, music, nightlife, entrepreneurship, and lifestyle stories that inspire, entertain, and empower their audience.
In addition to a lot of free stories in a magazine type published on the website, they sell a print magazine, and… offer mobile magazine app.
What's their goal?
"The launch of redbulletin.com not only allows us to expand reader accessibility to a full range of platforms worldwide, it also offers media partners new possibilities for their commercial campaigns – from singular advertising initiatives to an individually designed full-package-integration on social, print, mobile and online channels." – Wolfgang Winger, general manager of Red Bull Media House Publishing, says.
The key to success: cohesion.
When we look at the all actions Red Bull does, we can get the impression that they are inconsistent and the brand conducts its strategies in too many ways. However, each of their activity embodies their values. So do their magazines – by representing Red Bull's lifestyle, they attract readers/customers who share these values.
Example 3.
Name: Net-a-Porter
Website: www.net-a-porter.com
What they do?
Net-a-Porter is an e-commerce luxury fashion brand dedicated to women founded in 2000. The online shop is full of clothes, beauty, and lifestyle accessories from over 800 of the world's most coveted brands.
As they say, "we deliver incredible fashion for incredible women".
About their digital magazine:
Their strategy is performed in a twin-track approach: in print and in digital. Alongside the weekly luxury online magazines, they publish print publications which play an integral part in the wider business strategy.
Porter magazine offers more than 300 pages of high-end fashion content, intended to support Net-a-Porter's shoppable digital magazine.
On their Facebook profile we can read:
"Combining the intimacy of the printed page with the instant gratification technology allows, PORTER delivers an authoritative global point of view and a bespoke curation of fashion, beauty, travel and culture in one luxurious glossy package, brought to life by an innovative digital edition".
The key to success: print and digital cooperation.
Net-a-Porter is a place where e-commerce connects with both print and digital publications. It merges physical experience with the digital world through publishing.
What is the recipe for success?
– "You've shown us three well-known brands! No wonder they are doing great!" – you may say.
Digital magazine publishing is a strategy for any type of business, no matter what they sell and how big they are. Wouldn't it be a good idea to create a culinary magazine when selling kitchen accessories? Or an interior magazine for the furniture store? Well, there's one Sweden shop which does it successfully.
The above three examples we gave you have a lot in common when it comes to the approach to creating content. There are some other universal rules they follow.
Inspirational content is always better than direct selling.
None of our examples offers their e-commerce products directly, neither in a magazine, nor on social media channels, and if so, such content constitutes a definite minority of the whole.
What distinguishes the most successful e-commerce digital magazines from others is their content which is not aimed at selling, at least not directly. They aren't a catalog full of products rather a place to tell a story surrounding them. Most part of the content includes stories and interviews engaging readers. These are compelling, valuable content focused on the brand's customers; it's much more than disguised advertising.
"Brand magazines aren't out to compete with traditional publications. But the best of them are raising the bar, offering quality editorial content and artful design that can inspire and improve the industry." – Susan Parente, publications marketer, says.
Digital magazines should be not only interesting for the audience, but also suitable for the channel/device through which they will be received.
The feeling of belonging connects the brand with the reader strongly
Each of the above-mentioned magazines gives customers a little bit of luxury feel, thanks to which they are a member of some elite group. The same mechanisms are conducive to building a monetization strategy based on a subscription model.
Successful e-commerce is not based on selling products but on selling a lifestyle. The goal is to reach people who share the same values as the brand – digital magazine needs to embody them. Together with great visual design, and photo-heavy stories, it performs well.
Digital publishing gives possibilities unknown for print.
Why not use them?
Digital magazine design is based on interactivity. Brands who know it, create magazines combining impressive visuals with truly rewarding user experience.
What else should you remember about when creating an e-commerce digital magazine?
Prepare videos presenting products as they really look.
Use hyperlinks leading to the shop directly,
Ensure great view both on desktop and mobile,
Make the magazine easy for the reader to navigate.
Organize the topics in the best manner possible.
In times of lowering attention span, each of the above points is a step in encouraging readers to stay a little longer with the content.
Digital magazine as a powerful branding tool
Publishing digital magazines by various brands is an increasingly frequent phenomenon, although many entrepreneurs still treat them as an expense and not a source of income.
Is it right?
Digital magazine can be a source of income (e.g. thanks to including ads). However, in many cases, it plays other roles. Thanks to the inspirational content loosely related to the offered products, it's a part of relationship marketing – a long-term game that requires a long-term strategy where consistency with the whole brand values is critically important.
Digital magazines can uplift your brand position, you, and your business. What's most important, you are the person who owns this medium – you don't have to pay a fortune by advertising in other magazines, you're in control of the editorial content and the adverts that are inside.
A well-targeted digital magazine reaches lots of readers and hence an online store that is promoting in the magazine is getting lots of customers.
We'd venture to guess every e-commerce shop has the potential to make a good digital magazine.
Do you want to find out?
If you are the owner of an online store and you are thinking about publishing your own magazine, or you are already doing it, we invite you for a free consultation, during which we will talk about how to squeeze out your potential.