The publishing industry focuses on digital-oriented distribution channels, like online magazines and news apps, as never before. This is due to a few factors: the development of technology, decreasing interest in print issues and thus lowering advertising revenues, a new, more tech-savvy generation of readers, or the Covid-19 pandemic complicating traditional distribution.
The publishers' goal is always the same – find this kind of digital publishing solution that will help with growing and maintaining their own distribution channels, simultaneously, will secure online sales, maximize the revenue, allow them to stay present in the competitive market, and respond to the readers' needs.
– What would be better to achieve it: an online magazine or a news app? – we often hear this question.
In most cases, our answer is "both".
Why? What role do these solutions play in the magazine publishing world? Why do they work best when are used together?
Come and get to know it.
Online magazine – why, when, for whom?
Statistics show that print revenue falls each year while digital increases. If this trend will continue (everything points to it), digital newspaper publishing account for 50 percent of the total revenue in just a few years. Publishers should be prepared today to grow their business in times of the increasing demand for online formats.
The role of an online magazine in the publishing strategy
More and more publishers start running an online magazine, treating it as a chance for development, distribution extension, or an additional source of income, and rightly so. The world statistics report that pandemic sped up digital transformation in many organizations, including publishing, what is also confirmed by our customers.
One of them is a Japanese women's information magazine, Poco'ce. Its print version was distributed in the city center of Tokyo. Moving to the digital sphere gave them the possibility of maintaining continuity of distribution during the pandemic when selling print versions was difficult or impossible.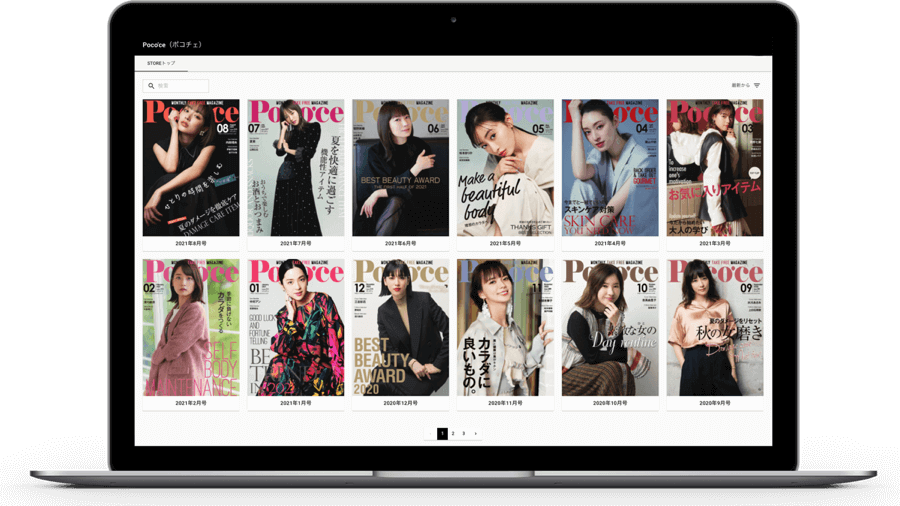 Since the beginning of our digital publishing adventure (it's been 10 years!), we've heard a lot of different reasons why publishers opt for an online magazine. Among all responses we've received to this question, these were the most popular:
building a multi-platform distribution strategy,
getting new readers,
engaging of the current audience,
giving fans something special,
replacing print with digital,
becoming positioned as an authority in the niche.
But the most common answer was different.
Online magazine helps with diversifying income
With print declining and thus falling interests in traditional advertising, the online magazine has become a sea of alternative income opportunities, and I'm not talking just about moving the advertising into digital. Although the revenue from online ads was somewhat disappointing for some time (which was caused by the increasing use of AdBlock), today we can talk about a revival of this strategy.
The LiveRamp in cooperation with Digiday published a report called "The State of Publishing: Monetizing inventory without third-party cookies". They surveyed 55 advertisers from brands and agencies – as well as 52 global publishers – from traditional news publishers to community sites.
What did they find?
73% of advertising respondents are already working with publishers directly.
81% of publishers have already started building direct-to-advertiser relationships.
Of course, publishers can also monetize their content by direct selling of one-time single issues. However, it'll bring relatively little money, while the ideal effect of running an online magazine is to generate some recurring capital.
It is possible when publishers focus on optimizing for long-term customer lifetime value. The path to achieve it leads through the paid subscription model.
Strategies like a hard paywall require users to pay for access to all content and are usually recommended to well-known titles with a solid place in the industry. Smaller companies can start with soft/metered or freemium paywalls. They offer free access to a part of the articles while the rest is intended only for subscribers. It's a great tactic to show people the value of the content and encourage them to see more.
The Economist offers their digital edition for free but only for people who subscribed to their print issues. The second option is to subscribe only digital version with unlimited access to the app, website, archive, podcasts, and newsletters.
Online magazine can generate revenue from archival content (digital e-kiosks usually have unlimited storage). National Geographic offers several free articles on their website and in the mobile app. To get access to all content, you must subscribe. A similar tactic is used by Colors, the magazine published by… Benetton, a famous Italian fashion brand. Have you heard about this publication?
The flexibility and universality of the online magazine make it is a great form also for non-publishing brands.
Is profitable to run an online magazine by non-publishing brands?
Not all online magazine producers are publishers per se. Many companies in any number of different industries create and distribute digital publications. Why do they decide to do this?
The answer is simple.
They also have to take care of their customers, keep them up-to-date, inspire them with interesting new content, and engaged them. The great examples are The Red Bulletin Magazine published by RedBull and Airbnb Magazine. You probably know these brands greatly, and know that neither of them is a publisher in a traditional approach. Both of these publications were created to keep customers enthusiastic about the brands and the lifestyles associated with the products and services.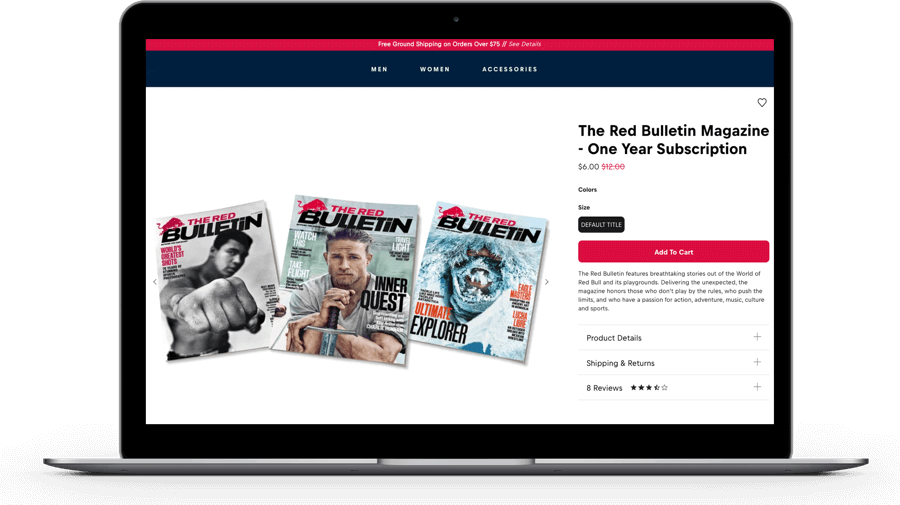 There are more such examples of online magazines creating by brands that are not related to the publishing world strictly. While these ones charge subscription fees, many other companies simply give these bulletins for free.
Does it make sense?
Free distribution of online magazines
Online magazines play an important role in a business strategy – whether it is distributed for free or not. It's always about retaining the customers and taking them to the next stage of the sales funnel, no matter if you are an entrepreneur or a publisher.
Many organizations and publishers create free magazines only for marketing purposes. It doesn't give them direct income, but benefits like a solid base of readers and a lot of data which is always straight equivalent to some kind of growth.
The benefits of distributing a free magazine are usually far outweighed by the effort made to make a magazine.
At every critical moment on the path of exploring your content, you should catch potential customers and give them content they want and need that will monetize in the future through various channels.
Let's take a look at the path the reader follows when discovering your content.
In the process of search of content, the reader encouraged by the title of the article, or cover photo, visits your website or your online magazine. How much time do visitors spend with the article?
Well, if you're an active Internet user, you probably guess that not so much because you've experienced the same many times (enter the page, quick look, and… leave). 55% of website visitors spent fewer than 15 seconds actively on a page.
Not so long, huh?
It's enough to encourage visitors to sign up for your newsletter, download a guide or install an app. The key is to choose a few interesting topics for your potential readers and put them somewhere on the website in a form that triggers action, e.g.:
"Sign up for the newsletter to get free yoga learning session"
"Complete a survey to receive an e-book about mindfulness"
"Download the app to be still up to date with world news"
Look how The Guardian encourages people to download their news app. There are two short statements on their website:
"A curated version of our responsible intelligent journalism set on the pace of your day"
"Get the latest news in real time. A new and faster way to catch up on every breaking news story and all the latest developments as they unfold"
It sounds engaging, doesn't it?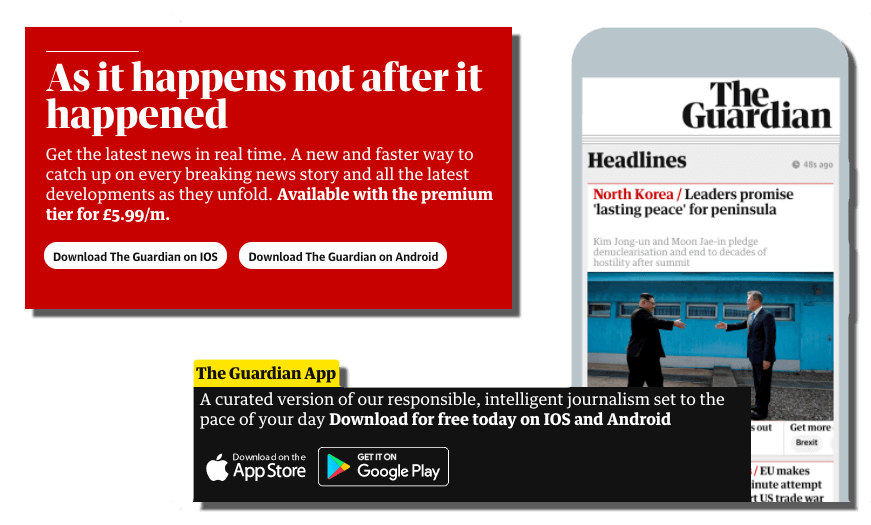 In the times of fast-leaving website visitors, a news app can be a chance to keep them for longer. The point is to convert one-time visitors into monetizing subscribers.
Both the website and the magazine can trigger the installation of the mobile app. This, in turn, can bring a lot of good.
News app as an extension of the online magazine
If your one-time website visitor or accidental magazine reader won't see anything interesting, he leaves and the chance he'll come back is small. News app is a great way to keep readers longer, make them come back, whereby they become regular readers what is equal to generate additional revenue and grow subscription programs.
In essence, mobile apps improve publishing brand exposure and encourage readers' engagement (push notification, rich media, social media easy sharing, etc.). Thanks to this tool you can also gain useful information on your user base, which will give you a massive competitive advantage in the market. And most importantly, you can gain profits.
These are just a few reasons why magazine publishers decide to launch their own mobile app.
Why should you consider a news app if you already have an online magazine?
If you've been already running an online magazine that is read by a loyal audience, launching a news app can be the next step in your development. This tool will answer different needs. If you want to enter the publishing future, you have to consider having a news app to draw more traffic to your magazine and help you with lasting in the competitive market.
Have you ever wondered in what circumstances your readers read your content?
Online magazines are usually published periodically: weekly, monthly, quarterly. People know when to expect the news issue; they can read them when they have time to do it – when they sit at home, or just resting somewhere.
The news app is a chance to have more frequent contact with the readers. Notifications they receive, remind about the brand, give the freshest news, and usually are read immediately because we all have a smartphone with us all the time. The Ofcom report found that the average phone user checks their phone every 12 minutes. What's more, reading news is placed on the list of 10 daily most common uses for smartphones.
The ongoing contact with the readers is not the only reason to have a news app. It's a tool for every publisher who:
looks for an additional monetization channel,
diversifies distribution,
wants to inform readers in real-time about news,
thinks about making regular readers into subscribers in the long run.
These benefits aren't trumped up.
The statistics speak for themselves
Data from a survey on news consumption shows that there has been a huge change in recent years in this matter. Reading online news via a smartphone more than doubled between 2013 and 2021, while the same activity via computer or laptop decreased by over 20 percent in the same time period.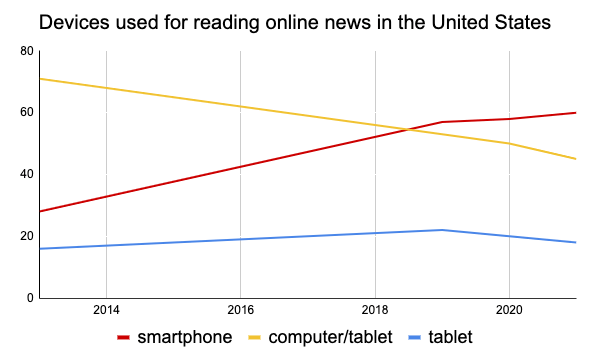 Americans favor mobile devices over desktops and laptops for getting the news. According to a Pew Research Center survey, roughly six-in-ten U.S. adults (57%) often get news this way (this percentage is higher when it comes to younger people). Only 30% of people claimed to do it on a desktop or laptop computer.
This trend is growing not only in the United States, but it applies to the rest of the world.
Spending on mobile news apps in Europe grew by more than 50 percent between 2019 and 2020, suggesting that news apps could soon become the preferred option for consumers willing to pay for news content.
Many newspapers and magazines companies have already had a mobile app to retain their current readers and draw new users. For publishers is a chance to monetize.
How to monetize online content thanks to the news app?
The strategies of monetization news app content are quite similar to these ones used with an online magazine.
In both cases one of the popular method is selling single magazine issues. The in-app purchases implemented in your app turn it into another sales channel.
Almost 85% of consumers prefer mobile apps to mobile browsers for online shopping. What's important, the same reason goes for news apps and online magazines as well. According to a survey done by Compuware, users choose mobile apps due to a number of their advantages: they are quicker, more feasible and simpler to browse and provide a better user experience.
Another news app monetization way is advertisement.
According to journalism.org mobile advertising revenue continued to grow rapidly in 2020, increasing from $87.3 billion in 2019 to $102.6 billion. Between 2011 and 2020, mobile advertising revenue increased roughly sixtyfold, from $1.7 billion in 2011 to $102.6 billion in 2020. In 2020, mobile advertising revenue comprised two-thirds of digital advertising revenue on mobile and desktop devices, up from 5% in 2011.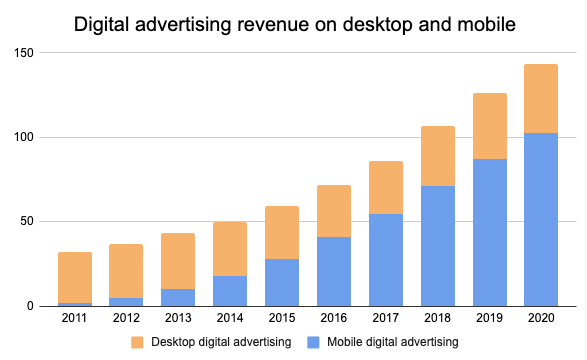 This may be due to the fact that the ads are well-oriented towards the readers and tailored to their interests. Also, publishers are more interested in paying attention to analyzing the reader's data. The latter will soon change a bit due to policy privacy changes introduced by Apple.
The great alternative to ads is a paywall, which can also be set in the mobile app.
Do any examples prove that paywall in the news app works?
Let's look at the Romania Insider news app case study.
They're providing diverse and reliable information from Romania since 2010. Having a loyal audience, they decided to start a journey with the news app was the natural next level in their development, and simultaneously, the best step they could take. They also introduced a paywall to the Android and iOS news app.
Since they set up a paywall, the statistics remain at a high level. Their efforts were leading them to reach over 460,000 readers from all over the world every month (February 2020; with a peak of over 800,000 readers in March 2020) and over 3.5 million people from all over the world every year (2019).
Their success is the result of using a paywall but also having loyal readers.
When you've already had an online magazine loved by readers, the news app is easy to implement, and… successful.
In this situation, starting the app is a piece of cake, because you already have an audience, understand your customers, and your competitive advantage grows. If the app is a mobile version of your online magazine, you might already have a clearly defined unique value proposition.
News app is part of a broader content strategy that supports and qualifies the ideal magazine buyers, and subscribers. It builds relationships between your business and your audience.
Possible strategies to grow together
When you use two distribution channels like online magazine and news app (or even three if we count print magazine), you have to remember that each of them plays different roles. They are created to achieve dissimilar goals and complement each other at the same time.
They all require one consistent strategy.
If you have an existing online magazine with a big subscriber base, you'll need to decide if your upcoming mobile app will be a standalone product that you sell separately, a product that print subscribers get for free, or an app that offers paid subscriptions.
There are different ways to connect a print and/or online subscription with an app.
→ Free access with ads. Online magazine and news app content are available for everyone without paying or signing up. What do you gain in addition to the profit from advertising? A lot of data.
→ Paid subscriptions. Online magazine and news app content are offered for free only for subscribers. A few articles can be unpaid. National Geographic offers plenty of free articles on their website and in their native app, but if you want the full reading experience, or access to past editions, you must subscribe.
→ App free trial for everyone. 30 days of app usage for free. After this time, the app content can be free only for magazine subscribers. If you don't subscribe, you can't read.
→ Unlimited digital and mobile access for print subscribers.
→ Free magazine with paid app (or subscription) when a mobile version offers much more extended content.
In the presentation below you will find an overview of the 5 subscriptions models implemented by the biggest world titles. Get inspired!
Print, digital, mobile
The print world is wonderful. Who doesn't love the smell of a new book that has left the print house a moment ago? But like everything, publishing is also changing.
Print magazine is a great solid base to build its online version, which can bring new readers, engage present ones and make profits, meanwhile, a mobile app helps to stay in touch with readers and keep them for longer.
These all versions of a publication can function simultaneously complementing each other.
Don't treat digital publications as a replacement for print, which destroys its existing heritage. It is, after all, support, building on solid foundations. You do not have to give up printing to implement online and mobile. Unless it is actually a total change and the readers expect it.
If you still do not know which digital publishing solution to choose or how to connect an online magazine with a mobile app, we will be happy to help you do it in the best way for you.