For online publishing businesses, establishing different digital distribution channels and building an engaged audience around a brand are as important as preparing high-quality content. Taking care of all these elements gives a chance for commercial success and profitable digital sales. A mobile app plays a major role in this venture.
Many of PressPad's customers are following this path of development and achieving great results measured in the number of readers and subscribers. Today we'd like to present to you Romania Insider, a news website whose efforts are leading them to reach over 460,000 readers from all over the world every month (February 2020; with a peak of over 800,000 readers in March 2020) and over 3.5 million people from all over the world every year (2019).
Who are they and what's the secret of their success?
Let's take a peek behind the curtain.

Romania Insider has been providing diverse and reliable information from Romania since 2010. On the English-language website, you will find the most important news, features and interviews related to business, society, politics, culture, travel, etc. They publish a lot of valuable content every day, making sure that their readers are always up to date with the newest affairs.
Information reaches readers from all over the world. Among them there are people who are Romanian by birth but live abroad, foreigners who live and work in Romania or folks who just want to know more about this place on Earth – either for doing business or for leisure. In general, a lot of fans. How do we know that?
Romania Insider boasts about their statistics that – you have to admit – are really impressive.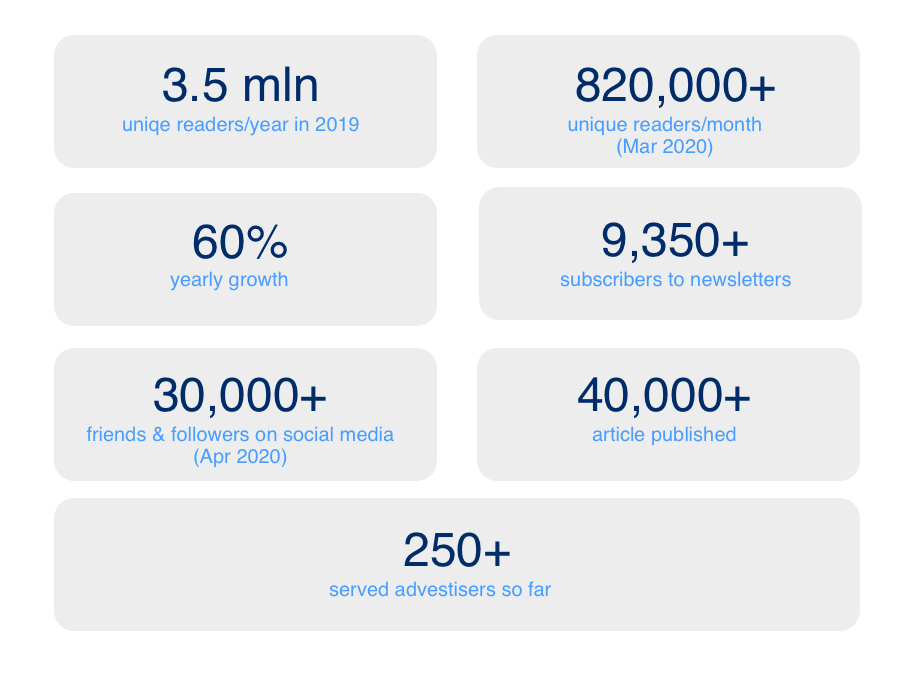 However, saying that they're just a news website is a big simplification. Running a website is only a fraction of their activity.
Diversification of content distribution to build an audience
The news website presenting information in a selected, clear and easy to understand form was a solid foundation for further development. Earlier this year, Romania Insider launched a subscription and membership program which provides exclusive content and access to a host of information tools on different platforms. Visitors can sign up for one of the ten themed newsletters, five of which are free, and five premium, covering the entire array of topics related to Romania, pick what type of info they want to receive, and how often it reaches their inboxes.
Romania Insider members receive premium newsletters, including brief bulletins in English every morning, with the latest headlines from Romanian media and every Friday curated overviews for the whole week land in their mailboxes.
Romania Insider is also very active on many social media channels including Facebook, Instagram, Twitter, and LinkedIn. In this way, they reach different groups of fans.
All of the above communication channels are used to attract readers, build an audience, and show people trustworthiness and value of the brand. Thanks to such a wide distribution of content, they reach different users with diverse preferences, building their involvement and loyalty.
On such well-prepared ground, starting a journey with the mobile app was the natural next level in Romania Insider's development, and simultaneously, the best step they could take.
Why?
News app to monetize digital content
Romania Insider distribute their content also via a news app that is available on Google Play and App Store. Its popularity is not only demonstrated by the number of downloads, but also by extremely positive comments.
People just love it!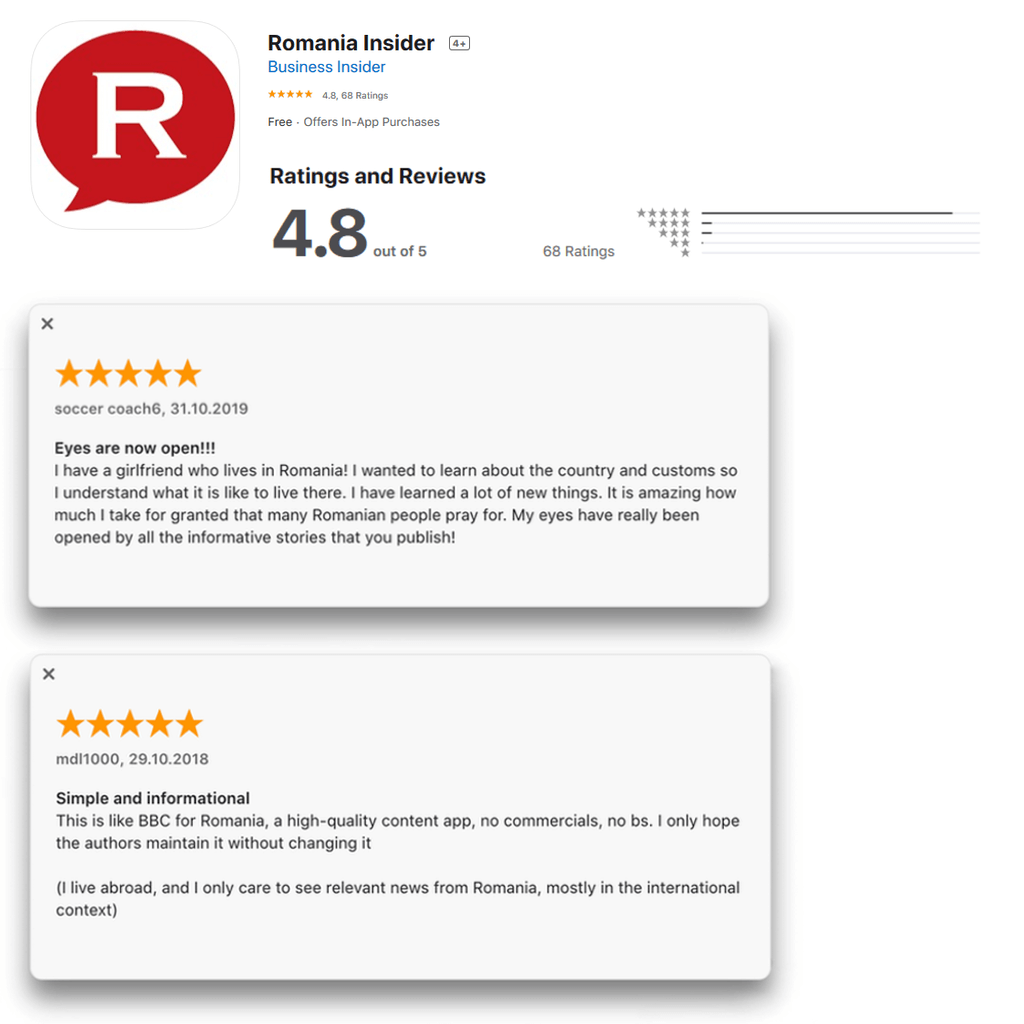 Meticulously building a solid group of fans can influence earnings significantly.
Romania Insider introduced a paywall to their Android and iOS news app at the turn of April and May – it is the system based on restricting access to content via paid subscription. An app user can read one article per month for free. If he wants more, he must pay for the full access. The app offers two options of subscriptions both of which are auto-renewable:
EUR 3.99 per month,
EUR 34.99 per year.
How does this system work?
Subscriptions may be managed by the app user who may choose a 1 or 12-month option (need to select at least one of them).
Subscription automatically renews unless it is turned off at least 24-hours before the end of the current period (auto-renewal may be turned off by going to the user's Account Settings after purchase).
An account will be charged for renewal within 24-hours prior to the end of the current period, and identify the cost of the renewal.
Users can cancel subscriptions at any time.
– Won't these content restrictions scare people away? – you may ask.
From the entrepreneur's point of view, the most profitable is to focus efforts only to reach such clients who will pay in the future.
Let's take a look at some numbers.
Since Romania Insider set up a paywall for its app, the statistics remains at a high level.
Corina Chirileasa, co-founder and Managing Partner of Romania Insider, shared with PressPad some thoughts about implementing paywall:
The conversions of our app paywall were far higher than we expected, as we had a stable number of active readers for our apps, a readership base that was built in time. They chose to receive content from us via this easy to use platform. We reached several hundred app subscribers already, mostly organically, and the number of our app downloads has not dropped significantly, as we had feared.
If you have a community focused around your brand, fans who love your content, we're sure they will appreciate what they get from you and be able to pay for valuable content, your hard work, and their own comfort.
Thanks to their news app Romania Insider monetize digital content (via selling subscriptions) and also strengthens relationships with readers: the app is add free and readers receive push notifications about new articles). It is part of a multiple-platform membership strategy to support their development well outside the classic advertising revenues.
The last step to success
The success of a news site is made up of many different factors such as high-quality content, the diversification of publishing channels, and effective monetization.
But above all, the brand achieves success when people put their heart and soul into creating it. All of these elements are something that we see in Romania Insider: on their website, inside the mobile app, on social media channels. This is a role model of how you can run your English-language publishing business. Look – their content is the first source of information for businesses that want to invest in Romania.
Do you have a news website? Have you ever considered having a mobile app to be much more closer to your readers? Are you looking for a way to monetize digital content?
Contact PressPad – we'll come up with something together.