Some people think of it with a tear in their eyes; others claim with relief that it's a natural necessity that had to come some time; the rest feel the excitement of looking for new solutions. The end of Adobe Flash Player planned on December 31, 2020, is already a certainty. It will bring digital publishers new, exciting challenges in their business functioning.
In 2007, Mark Anders, back then an Adobe employee, described the Flash as a new publishing tool of the century, and pointed out how it changes the digital world: "We have let more people publish – whether it's blogging or having a MySpace page, or uploading to YouTube". He probably didn't expect then that a decade later Adobe would announce the death of this technology.
Although it cannot be denied that Flash had a huge contribution to the development of Internet websites and digital magazines, its time has come to an end. Today we are getting ready to say goodbye to this technology for good.
What does it mean for publishers who have used digital publishing platforms based on Flash?
Adobe Flash – the beginning of the end
Flash has been the dominant software responsible for multimedia content dynamic display on the Internet: drag-and-drop animations, graphics, audio, and video. It undoubtedly revolutionized thinking about advertisements, moving them to the digital world, and allowing for the creation of online display and video campaigns.
Adobe Flash has been an important part of the world wide web for 20 years. However, this time wasn't free of controversial aspects and problems.
Many Internet users and website owners have claimed that Flash players are unstable and inefficient, slowing down web pages and crashing operating systems. Potential hacker vulnerabilities have also been questioned many times.
The breakthroughs in Flash's declining popularity were the moves of two technological giants. In 2010, Apple announced that they didn't allow Adobe to create a Flash player for the iPhone operating system, which created a feud between the two companies. Another big company that followed in Apple's footsteps was Google. The giant acted rather conservatively – decided to limit Flash's share on YouTube, and began to gradually replace it with more modern HTML5 technology.
Flash started to be widely regarded as a performance-hampering safety hazard and more and more companies turned their back on what was once the industry standard for animated content.
All of this contributed to the final decision. On July 25, 2017 on Adobe blog the information was announced that they plan to terminate Flash Player by the end of 2020.
What does the end of Flash mean for digital publishers?
Flash played a leading role in the publishing industry development in its crucial time, influencing online magazines development. It was a dominant format for many digital publications in the early 2000s as it could facilitate rich multimedia and simulate the turning of pages just like in a printed magazine, what was a truly invaluable experience then.
The entire digital magazine market used Flash as the primary display format. This concept helped to boost the true potential of online magazines showing publishers how immersive, interactive content can stimulate reader engagement.
Despite the announcement of Flash's retirement, many platforms are still using it to convert PDF into flip page digital publications. In the face of it, there is an intense time of working on other, modern solutions ahead of these companies. After all, Flash is not suitable for the future technology trend, where people are waiting for a new, safe, and modern approach.
This situation puts publishers in limbo when it comes to the future look, feel, and functionality of digital magazines.
Unless, of course, they use the PressPad Store.
Case Study of Poco'ce Japanese magazine
Poco'ce is the women's information magazine distributed in the city center of Tokyo, Japan. It is published by Tank Publications, Inc. on the 25th of every month, and its hard copy can be obtained on the Tokyo's Toei Subway line. The magazine is also available through the mobile apps and a dedicated website.
Website: www.pococe.com
Twitter profile: @pococe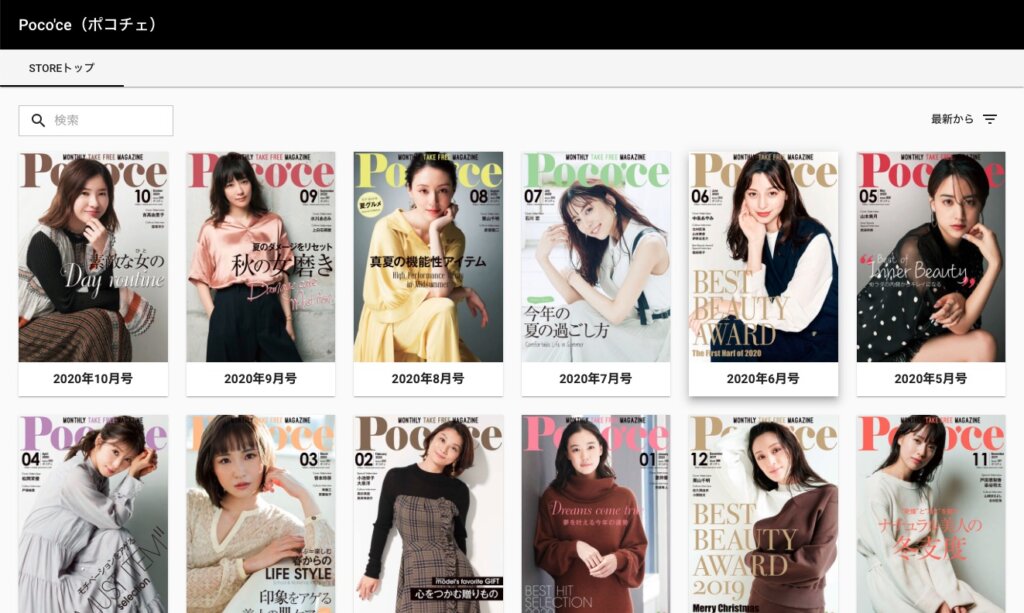 The problem
The publisher could not distribute the digital version of the magazine via the website because the flipbook solution they used to have was based on the obsolete Flash technology. On most of the modern website browsers, the Flash was disabled by default and thus readers could not access the magazine.
The user experience wanting to get the digital replica of the magazine via the website drastically decreased.
What's more important browsers like Chrome, Opera, and Firefox stop supporting Flash technology at the end of 2020.
The solution
The publisher decided to use the PressPad Store to host and distribute the Pococe magazine online. PressPad implemented its Flash-free e-kiosk solution in no time on its own website allowing access to all the back issues, and for future editions to be freely distributed online. The publisher decided not to enable a login wall and not to embed the e-kiosk on the magazine's website. They preferred linking this website to their own e-kiosk set on the dedicated site of PressPad.
PressPad customized the color scheme of the Pococe's e-kiosk to provide coherent and branded users experience.
The outcome
The magazine is available online for people visiting the publisher's website which links to the kiosk.
The e-kiosk provides a native user experience and can be accessed even from mobile devices (despite its optimization towards a desktop use).
The publisher can upload new editions as well as back issues from their control panel, and have them available instantly on their branded e-kiosk.
The e-kiosk uses standard JavaScript technology, which does not require any third-party plugins.
PressPad Store as a publishing alternative to Flash technology
Today, the companies which deliver digital solutions for publishers are struggling with the consequences of the end of Flash, fixing their products hastily. It means that many publishers will be forced to change their existing business strategies or look for a new publishing platform provider.
In PressPad, the situation is completely different.
Years ago, when PressPad started working on it e-kiosk solution called PressPad Store, they made the decision to use a modern approach and opt-out of Flash, which today turns out to be the key to being a huge step forward to meet publisher's requirements a new reality of the post Flash era.
PressPad Store is an online kiosk that allows selling access to PDF issues to build online revenue for publishers and offers great reading experience in a flip page manner across multiple devices. To give more insight to those of you who are familiar with technicalities –PressPad doesn't use Flash. Instead, PDFs are displayed with a modern JavaScript engine, a native web technology that guarantees support for many years ahead.
PressPad Store is dedicated to desktop publishing and allows to put up an e-kiosk on publisher's or partner websites and blogs. However, it's also run great on mobile devices.
– What if I want to publish multimedia content in my magazine? – you may ask.
For the publishers' convenience, the PressPad digital publishing platform doesn't require to create any widgets or implement anything else to provide beautiful media players inside the publication. All you need is a hyperlink to one of the supported media. Integrating PDFs with YouTube, Vimeo, SoundCloud, and SlideShare is attracting readers much more than the printed text.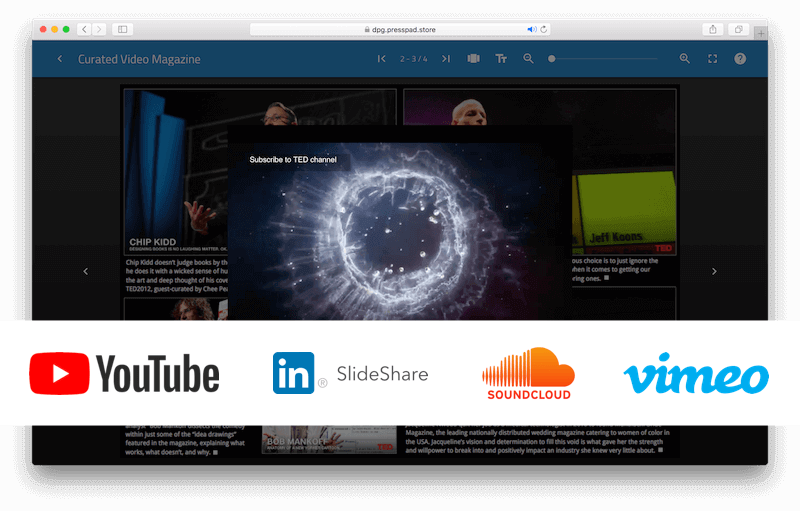 PressPad Store guarantees you a quick and easy start or natural continuation of your publishing adventure thanks to a few aspects you should know about.
Immediate implementation

PressPad Store is a fully functional product that makes your e-kiosk ready in no time, without any third party involved in the process of deployment except you and PressPad. Also, no technical knowledge nor programming skills are required to have run for you.
The only thing a publisher has to do at the beginning is to register and fill in a few basic pieces of information. All technical things and configurations related to the domain assignment and connecting payments are on PressPad's side.

Support with the installation

The installation process is easy, fast, and runs with collaboration.
PressPad's specialist accompanies customers all the way through the preparation of the kiosk as well as after it's done. Publishers are not left alone. Never.
Time for a change
Adobe Flash is slowly becoming the past, leaving a permanent trace in the history of the development of the Internet. Its place is being taken over by other technologies. This is also a big change for publishers, which they can go through absolutely painlessly and without any loss thanks to PressPad Store.
This course of events is guaranteed by this e-kiosk built from scratch by the PressPad developers' team. It is a solid, safe publishing base, independent from external influences.
Would you like to try it?
Contact PressPad and spread your wings.