Have you ever wondered if creating and running your own digital magazine is a good, profitable idea, should it be a part of your growth strategy and can you monetize it? The answer to all these questions is: yes.
Easy to say? It will be best if you can find out for yourself in a moment.
Digital magazine publishing is a business venture that often involves the construction of a new team and a certain organizational structure. We would like to draw your attention to some of the activities related to the publishing process: creating attractive magazine features and effective issues promoting.

Every magazine publisher, be it a beginner or an expert, struggles with similar problems related to the form of the magazine, planning your strategy, advertising, getting new readers and, generally speaking, dealing with the future. When you take those dilemmas into account, two crucial questions come to mind:
How to make an online magazine attractive in order to get more readers?
What to do to make the online magazine a successful part of your monetization strategy?
The knowledge and tips we share have a solid foundation in our many years of experience in developing digital publishing platform, many conversations with publishers, and online magazines development observation.
There are many reasons why publishers decide to run an online magazine, e.g. creating an additional revenue stream to further monetize content or increasing transparency on the road to building a strong, recognizable brand. Those reasons always depend on business goals that publishers set for their companies.
— Can running an online magazine bring extra profits?
Definitely yes. One of the publisher's business goals is generating revenue:
directly (sales of single issues, subscriptions),
indirectly (ads, sponsored articles, affiliations).
Before we go further, look at the following statistics.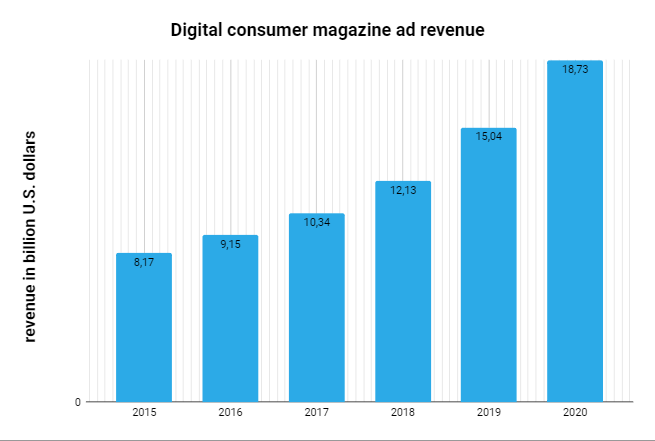 It was projected that digital consumer magazine ad revenue would increase from 8.17 billion U.S. dollars in 2015 to 18.73 billion in 2020.
Digital magazine publishing offers countless benefits, starting with increasing content distribution on a global scale, getting new readers and engaging them thanks to giving target values. It also helps you build relationships, develop your business and achieve the satisfaction of success. It is the right way not only for a single publisher but also every company regardless of its size.
Constantly increasing numbers of online magazines are not only caused by new technologies but also growing demand from the readers. As a result, print publishing is still present in today publishing world but the balance between print and digital has changed. Digital publishing isn't actually replacing print but becomes an additional source for acquiring readers, another channel for earning and fulfilling other functions, and reaching out to other types of users.
Digital magazines readership growth
Digital magazine readership, as a percentage of all magazine readership, climbed from 32% in 2016 to 37% in 2018. At this pace, digital magazine readership as a percentage of all magazine readership will break 40% in 2020.
Today, the question is not whether it is worth having a digital magazine, but what to do to make it a real support for business. The Internet is full of guidebooks about starting a magazine, its promotion and monetization.
To start a magazine, you need to know your niches and their needs, remember that "content is a king" and not forget about a stunning layout, high-impact covers and modern design.
Probably you have seen these cliches many times. They are true, but on the path to creating a successful magazine you need something more. Especially when it comes to online magazines.
The digital art of magazine creation
Your online magazine will be read across all devices: desktop, laptop, mobile, tablet. The first thing you should remember is that it has to be built upon the Responsive Design idea without compromising on quality. What does it mean in practice?
Readable text that doesn't require zooming on any type of device
Content which fits the device's screen, without the need for horizontal scrolling
Links & buttons which are adequately spaced out, so that tapping is not difficult
Reasonable loading times for pages
Making a mobile-friendly magazine is important because it prevents your readers from leaving. What people expect today are specially formatted digital editions which look aesthetically pleasing and can be read across a number of devices. Websites that take ages to load and are not compatible with certain devices, scare people away and discourage them from coming back.
What do digital readers need?
Readable text and scrollable text are the two most valued functions for digital readers. Other functions readers value in a digital magazine are: website links, embedded video, back issue archives, vertical swipe, copy and paste capability and content bookmarking.
Get all of the attention your magazine deserves with a video, photo, in-magazine links, sharing, live features and website integration capabilities. Thanks to these features you will sell products, clarify concepts and increase user engagement.
Hint: Beautiful pictures and interesting videos deserve to be viewed full-screen. Enabling a full-screen mode will provide users with a more immersive, cinematic experience.
By 2019, it is estimated that the video content consumption will have reached 80% of the total global internet consumption. Adding such a form to the online magazine will only strengthen its position and diversify the transmitted content.
Online magazine publishing platform
Native mobile apps for WordPress blogs and online magazines.
Thinking about the paid distribution of your content? Brands like Amazon, YouTube and Buzzfeed have figured out a long time ago that mobile apps attract returning users.
Learn more about online magazine publishing platform »
How to engage readers thanks to in-magazine video?
Live stream. Having a live broadcast in a digital magazine changes the concept of a magazine that only appears at a specific time. Thanks to this, the readers can enjoy the content without having to wait for the next issue to be published. Such a procedure increases the involvement of the readers who have to visit your digital magazine more often than once a week or a month.
The video tutorial works much better than a written instruction or even an infographic. It focuses on presenting more complex data in a short and more efficient form. Thanks to this you can explain, educate and inform the readers about important events and issues, giving them statistics and detailed insights. There's no better way to improve a recipe in a cooking magazine than with a video on how to make it.
The video commentary. The interview is one of the most popular forms of journalism. You don't have to make a video interview – you can simply add a short video commentary to your text, or introduce a footage from the backstage. Using this kind of video is also a great idea for promoting your magazine on social media, isn't it?
Let advertising fit into the digital space
Online magazines may generate revenue based on search ads targeted to website visitors, banner or video ads, affiliations to retail web sites, classified advertisements, product-purchase capabilities, advertiser directory links, or alternative informational/commercial purpose.
Ads placed in the online magazine are interactive. Readers can click on the ad which interests them and be taken to sponsor's site. Every ad can be linked with the advertiser's website or a specific landing page through a number of different ways, e.g.:
contributor biographies and websites
companies and people mentioned in the article to send the reader straight to the "source"
Ad revenue can be the main source of income but it does not have to.
If not ads, then what?
Offer more
Digital magazine distribution is a tiny fraction of the total cost of physical distribution, and it enables building global audiences more economically. Your content can be converted into free distribution channels like social media.
Hint: An article can be repurposed into several Tweets or Facebook updates that will drive attention to the source and the magazine's brand.
Just look how "The NY Times" builds a global audience using multi-channel distribution:
They published the same content on the website and on Facebook. What was a result? More than 3000 likes, 104 comments, 876 shares. How much more people saw it?
You can also use pay-to-read platforms to publish your magazine. The biggest advantage of such platforms is the possibility of reading back issues via search functions in an online archive.
A part of digital selling is the magazine's subscription strategy.
In 2015 15.10% of US adults reported spending a total of $1.2 billion per year on digital magazine subscriptions and single copies. In 2016, that number grew to 23.51% and $1.9 billion. This is a 56% increase in digital magazine spending year over year.

Subscribers never have to remember to reorder the magazine every month, which gives them the reassurance that they will have whatever they need before they actually need it.
Although many publications began as paper copies and grew readership through tangible words and pages, they have continued to reach new and more diverse audiences by meeting the needs of traditional readers as well as those who prefer to read content online.
Hint: How can this help to increase the sales of your print magazine? You could sell your digital and your print publication together, offering a special price to the readers that buy both. Just imagine how exciting it could be for customers to get also a digital edition for the price of a print one. You can learn more on how to make your magazine subscription offer stand out from the crowd.
I do not subscribe until I check if it's worth it
Think about free trial digital access for new readers. They could read a certain number of free articles and then subscribe. Also, three-month subscriptions seem to be more popular than the yearly ones.
Most of our publishers send promo-codes that enable full access to the content for a certain period of time to drive sales.
If you believe in your content you can provide your readers with free access in order to get them used to the content and to create a reading habit. Then, you can start sending push notifications to remind them about available subscriptions.
Refresh e-mail marketing lists by sending interesting free content that gives your current or potential readers some values: advice, a sample of future issue, a fragment of the magazine.
Hint: Remind your readers about the possibility of unsubscribing the newsletter. This will enable you to reach those readers who are really interested in your magazine.
Start promoting before launching
Online magazines promotion strategy includes activities from the announcements of the new issues, through its launching, to refreshing some of the older, more popular articles.
The power of social media
Make the social media a part of your marketing strategy and don't hesitate to pay for it. Boosting posts on Facebook increases rich and engagement. We've checked over 500 Facebook ads via Adspy to investigate if there is some common design rule among the ads that engaged best and we've found a common pattern. The promoted posts with the most reactions included distinctive, large images. Moreover, they contained one of the well-known elements that arouse emotions and carry specific connotations:
animals
TV scenes
children
soldiers/uniforms (with guns)
attractive women
famous people
scenes with the crowd
Think about a discount code in exchange for a Tweet about your magazine and kill two birds with one stone – get a satisfied reader, happy because of the lower price, and expand the group of potential clients via social media.
Use short videos to encourage people to explore the content. It is easier to understand the appeal of a digital magazine by watching a short video than seeing a cover photo. Put it on your Facebook or Twitter channel where people can share it easily.
Give some value
Create a consistent social media campaign and don't forget about your website and email newsletters. Combine that with giving unique value to your newsletter subscribers (for example, special discounts only for them).
Offer expertise in real time for example via push notifications in a mobile app for your magazine. This tool will help you with keeping in touch with every reader, engaging your community in every place and at any time
Use print and digital issues as mutual promotion channels. You can integrate QR codes with print versions. Readers will be able to interact with rich media on print content and advertisements.
Your magazine needs to be accessible, easy to locate, intuitive to use and share, and available to purchase from a variety of places.
Secure Website Hosting (for Digital Magazines)
At the heart of every digital magazine is its website content management system (CMS) and its hosting platform. While some publishers may choose to self-develop tailored systems at great expense, many accept the enormous amount of positive features an open-source publishing platform like WordPress can offer considering its extremely low operational expense. The one downside of open source software is however security – or the potential lack thereof. Where there is knowledge there is power, and unfortunately, some of those who keenly understand the technical coding and database architecture of WordPress also choose to keenly develop ways to break into and damage WordPress websites. For this reason, a highly secure solution for hosting WordPress and other SQL database-driven CMS websites is vital.
While many web hosting services across the globe offer large volumes of disc space and huge, if not unlimited chunks of data bandwidth coupled with extraordinarily low prices; few offer security solutions coupled with serious technical support to help ensure your publishing empire grows into the success story it deserves to be.
In order to find better hosting solutions, digital publishers should be on the look out for hosting companies that offer a tailored approach to hosting account management, premium security services as standard, and a strong wiliness to offer true 24/7 support. With such a solution you'll be making a wise buying decision early on that'll likely reward you well into the future.
In recent years we've seen a lot of smaller, quality hosting businesses bought out by larger companies, and as so often is the case, once this happens the quality very quickly slides into the dark abyss. Recently, however, one hosting company in Australia Datalink Secure has caught our eye, as its a service that's specifically designed for WordPress and SQL website content with security at top of mind. Plans include support from your very own account manager, daily WordPress content and account backups (at separate remote server locations) plus a serious array of threat mitigation tools built directly into the hosting server architecture (so you don't have to lift a finger!)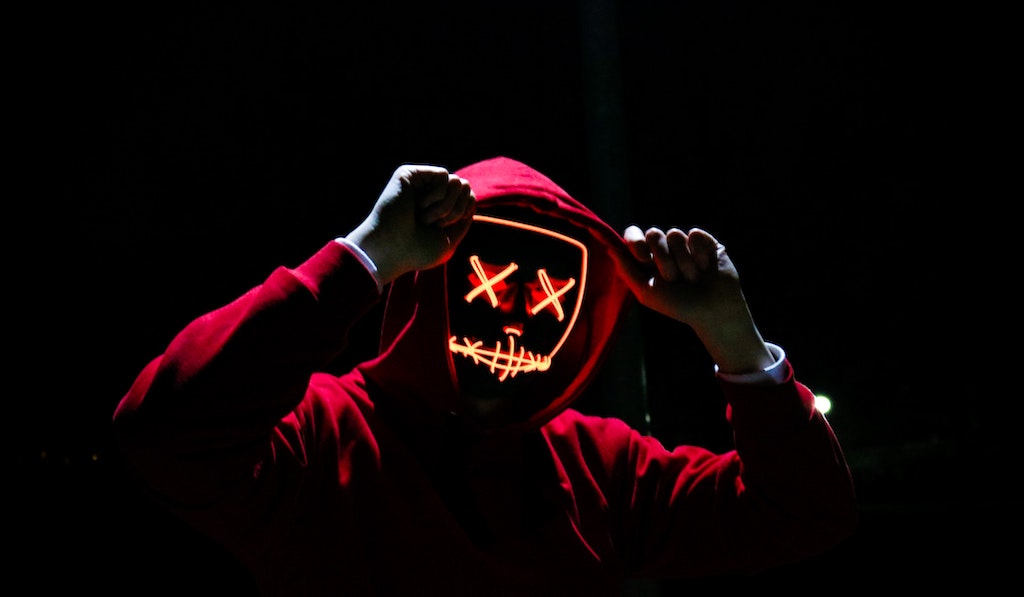 Security features check list:
DDoS (distributed denial of service) attack mitigation
Mission-critical hosting with included daily data backup
Antivirus and malware scanning services
Web application firewall with brute force attack mitigation
Selective country IP blocking
Anti-spam tools for your email accounts
Knowledge of CMS, SQL, WordPress
Latest version server-side software, example: PHP 7.4
Digital magazine, a breath of innovation
Offering a digital magazine can be a breath of innovation in publishing, and social media will increase the possibilities of sharing articles, and allow direct contact with the readers.
To grow your business, i.e. cross-promote print and digital issues, offer purchases and subscriptions available across every platform via your website. Learn from the others.
Print magazine versions as well as digital ones are important on a publishing market. But each of them plays a different role in your publishing strategy. Don't think about modern magazine publishing as a substitute for the print but rather its extension.